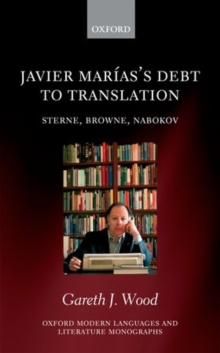 Javier Marias's Debt to Translation : Sterne, Browne, Nabokov
Hardback
Description
This is a book about translation and literary influence.
It takes as its subject Spain's most important contemporary novelist, Javier Marias (1951-), who worked as a literary translator for a significant portion of his early career.
Since then, he has maintained that translation had a crucial impact on the development of his writing style and his literary frame of reference.
It examines his claims to the influence of three writers whose works he translated,Laurence Sterne, Sir Thomas Browne, and Vladimir Nabokov.
It does so by engaging in close reading of his translations, examining how he meets the linguistic, syntactic, and cultural challenges they present.
His prolonged engagement with their prose is then set alongside his own novels and short stories, thebetter to discern precisely how and in what ways his works have been shaped by their influence and through translation.
Hence this study begins by asking why Marias should have turned to translation in the cultural landscape of Spain in the 1970s and how the ideological standpoints that animated his decision affect the way he translates.
His translation of Sterne's Life and Opinions of Tristram Shandy, Gentleman is set alongside his pseudo-autobiographical novel Negra espalda del tiempo (Dark Back of Time), while his translation of Sir Thomas Browne's Urn Burial is thenanalysed in tandem with that produced by Jorge Luis Borges and Adolfo Bioy Casares.
Subsequent chapters examine how Browne's prose has shaped Marias's thinking on oblivion, posterity, and time.
The final chapters offer an analysis of the partial translation and palimpsest of Lolita he undertook in the early 1990s and of his most ambitiousnovel to date, Tu rostro manana (Your Face Tomorrow), as a work in which characterization is underpinned by both literary allusion and the hydridization of works Marias has translated.
Information
Format: Hardback
Pages: 362 pages
Publisher: Oxford University Press
Publication Date: 01/12/2012
Category: Translation & interpretation
ISBN: 9780199651337
Free Home Delivery
on all orders
Pick up orders
from local bookshops
Also in the Oxford Modern Languages and Literature Monographs series | View all