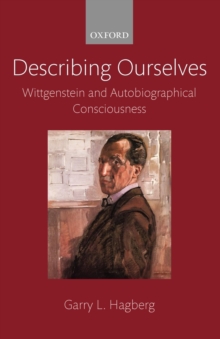 Describing Ourselves : Wittgenstein and Autobiographical Consciousness
Paperback / softback
Description
The voluminous writings of Ludwig Wittgenstein contain some of the most profound reflections of recent times on the nature of the human subject and self-understanding - the human condition, philosophically speaking.
Describing Ourselves mines those extensive writings for a conception of the self that stands in striking contrast to its predecessors as well as its more recent alternatives.
More specifically, the book offers a detailed discussion ofWittgenstein's later writings on language and mind as they hold special significance for the understanding and clarification of the distinctive character of self-descriptive or autobiographical language.
Garry L. Hagberg undertakes a ground-breaking philosophical investigation of selected autobiographical writings-among the best examples we have of human selves exploring themselves-as they cast new and special light on the critique of mind-body dualism and its undercurrents in particular and on the nature of autobiographical consciousness more generally.
The chapters take up in turn the topics of self-consciousness, what Wittgenstein calls 'the inner picture', mental privacy and the pictureof metaphysical seclusion, the very idea of our observation of the contents of consciousness, first-person expressive speech, reflexive or self-directed thought and competing pictures of introspection, the nuances of retrospective self-understanding, person-perception and the corollary issues ofself-perception (itself an interestingly dangerous phrase), self-defining memory, and the therapeutic conception of philosophical progress as it applies to all of these issues.
The cast of characters interwoven throughout this rich discussion include, in addition to Wittgenstein centrally, Augustine, Goethe, Dostoevsky, Kierkegaard, Iris Murdoch, Donald Davidson, and Stanley Cavell, among others.
Throughout, conceptual clarifications concerning mind and language are put to work in the investigation of issues relating to self-description and in novel philosophical readings of autobiographical texts.
Information
Format: Paperback / softback
Pages: 284 pages
Publisher: Oxford University Press
Publication Date: 27/10/2011
Category: Philosophy of language
ISBN: 9780199698424
Free Home Delivery
on all orders
Pick up orders
from local bookshops