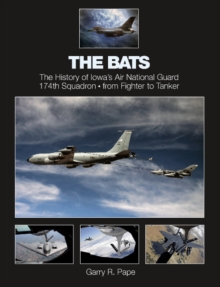 Bats: The History of Iowa's Air National Guard 174th Squadron, from Fighter to Tanker
Hardback
Description
The Iowa Air National Guard's 174th Air Refueling Squadron was organized at the Sioux City Army Air Base in 1946 as a P-51 fighter squadron.
Over the years it flew many fighter-type aircraft. Called to active service during the Korean War the squadron was activated, dispersing assets and personnel in many directions.
Both the U.S. Air Force and the Air National Guard learned from this real-life exercise.
When another call-up came during the Vietnam War, the 174th Tactical Fighter Squadron was kept together as one of four ANG squadrons seeing service in that conflict with stellar results.Now known as the 174th Air Refueling Squadron, the unit has been supporting the regulars in numerous conflicts since taking on the air refueling role.
This is the history of midwest American and warrior values integrating perfectly.
Today they are an important element within the Air Force.
Information
Format: Hardback
Pages: 216 pages, 341
Publisher: Schiffer Publishing Ltd
Publication Date: 01/02/2014
Category: Military history
ISBN: 9780764343742
Also by Garry R. Pape