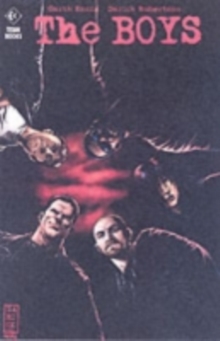 The Boys : v. 1
Paperback
Description
From the dark and twisted mind of Garth Ennis, co-creator of "Preacher" and "Hitman", and the savage pencil of Darick Robertson, artist of "Transmetropolitan", comes a darkly hilarious story that will change the way you look at superheroes forever!Meet Billy Butcher.
He's not a nice man, and neither are his team: the Frenchman, Mother's Milk, and the Female.
They hate "capes"...and so does Billy's newest recruit, Wee Hughie, whose girlfriend has just become collateral damage in a super-brawl.
But does Hughie know what he's getting into?This hugely controversial new series - which caused an uproar upon original publication - explores the sordid side of superheroics!
Warning: Adults Only!
Information
Format: Paperback
Pages: 144 pages, colour comic strip illustrations
Publisher: Titan Books Ltd
Publication Date: 26/10/2007
Category: Comics and Graphic Novels
ISBN: 9781845764944
Free Home Delivery
on all orders
Pick up orders
from local bookshops
Reviews
Showing 1 - 3 of 3 reviews.
Review by Clurb
16/06/2015
This is a short, sharp introduction to a world of dichotomies. Set against the bright and glamourous lifestyle of America's superheroes, 'The Boys' are a group of ordinary down to earth (yet manically violent) citizens who police the actions of the superheroes to make the world a better place. Shocking, disturbing and hilariously funny, Ennis has outdone himself with this one.
Review by cspooner
16/06/2015
There's something about Garth Ennis. I'm often repulsed by his stuff- mainly because it's hideously foul and deliberately shocking- but it's always a compelling read. Funny, too. The Boys is about a gang, basically, that keep the superheroes of the world in line. I didn't realise this before, but Garth Ennis really hates superheroes. They're simple, mean, criminal, malicious and/or childish. Therefore, seeing them getting beaten up or exploded is actually quite funny. Recommended if you like Ennis, or disturbing fiction.
Review by KayPrime
16/06/2015
The story is dark and twisted and along the premise of 'who watches the Watchmen?' and I really liked this concept. It shows that superhumans are precisely that- HUMAN. Power corrupts and the supes are not beyond that character flaw. So who checks that power? That is where The Boys come in. They are a government- backed group, each person with their own personal score to settle with the supes. It gets graphic and bloody and very close to X rated. All good things by my calculations.However, I am not a fan of graphic novels in general. I prefer solid text and to let my imagination paint the picture. The frames- although well done- interrupt my reading and I find that frustrating.For anyone who enjoys graphic novels, I'm sure you'd love this one. If you're not a fan to begin with, I don't see this one doing much to convert you.