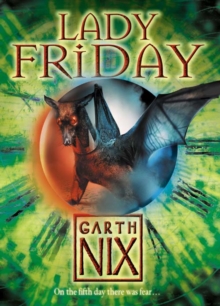 Description
Friday is here! The race is on to find the secret of the Middle House.
The fifth eagerly awaited installment in Garth Nix's best selling fantasy series,The Keys to the Kingdom.Arthur Penhaligon's adventures in the House get ever more perilous as the week unfolds.
On the fifth day, there was fear...Four of the seven Trustees have been defeated and their Keys taken, but for Arthur, the week is still getting worse.
Suzy Blue and Fred Initial Numbers Gold have been captured by the Piper, and his New Nithling army still controls most of the Great Maze.
Superior Saturday is causing trouble wherever she can, including turning off all the elevators in the House and blocking the Front Door.Arthur can't even find out what is happening back home.
All he knows is that Leaf isn't on earth any more. She's missing and so are hundreds of other people who were transferred from regular hospitals to a private institution run by a 'Doctor Friday'.
From there they have been taken somewhere else in the Secondary Realms, for Lady Friday's own horrible purposes.Amid all this trouble, Arthur's mother is also missing, and he must weigh up an offer from Lady Friday that is either a cunning trap for the Rightful Heir or a golden opportunity he must seize - before Superior Saturday or the Piper beats him to it.
Information
Format: Paperback
Pages: 384 pages
Publisher: HarperCollins Publishers
Publication Date: 01/01/2007
Category: Fantasy
ISBN: 9780007175093
Free Home Delivery
on all orders
Pick up orders
from local bookshops
Reviews
Showing 1 - 3 of 3 reviews.
Review by kw50197
16/06/2015
Another book in the series I enjoyed very much. It was also a nice change to have a sensible Will.
Review by shanaqui
16/06/2015
I loved how much time in this book was spent with Leaf. I think the focus on her is the first time the point of view has spent so much time with a character other than Arthur -- we don't see the adventures of Suzy Turquoise Blue in quite the same way, for example. The more inhuman Arthur becomes, the more time is spent with Leaf...<br/><br/>Each new book seems less and less resolved than the others, partly because the first two books make you begin to expect Arthur to go home at the end, and partly because the pace is ratcheting up.<br/><br/>Surprisingly enough, I liked the Fifth part of the Will, and am slightly less worried about the Will. Still. We'll see. I was entertained by Arthur simply grabbing back the keys when he needed them, even if it was unintentional. Yay Arthur!
Review by isabelx
27/08/2015
"Have you read all of this second letter?" Arthur asked Pirkin cautiously. His hand fell to the Fourth Key at his side. He hadn't put his belt back on, but he'd made sure it was never out of reach."I read 'em both," said Pirkin. "But like Oddkin said, it's just a load of old jetsam. Kill Piper's children? Kill Raised Rats? That's not something the association would stand for, I tell you. That Saturday ain't got no rights here. She can do whatever she wants in the Upper House, I suppose, but no one here is going to do stupid stuff just because she says so."The Piper is making his own bid for power, so Arthur has a rival in his quest to wrest control of the keys from the Morrow Days. This seems more like a section of a longer work than a book with a beginning, a middle, and an end of its own.
Also in the The Keys to the Kingdom series | View all