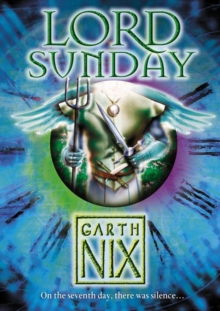 Description
In this seventh and last book of THE KEYS TO THE KINGDOM, the mysteries of the House, the Architect, the Trustees, the Keys and the Will are revealed, and the fate of Arthur, our Earth, and the entire Universe is finally decided.Arthur has wrested the Sixth Key from Superior Saturday, but has fallen from the Incomparable Gardens; fallen not to the Upper House but to somewhere completely unexpected.
Alone in enemy territory, as his mind and body are further transformed by the power of the Keys, Arthur must struggle with himself as much as with his many enemies.Meanwhile, Arthur's friend Suzy Blue plots an escape from her prison in Saturday's tower, as battle rages above and below.
Saturday's elite force is pressing on into the Incomparable Gardens, while her massed sorcerers fight a desperate rear-guard action against the Piper and his Newnith army.On earth, Leaf has to cope with the aftermath of a nuclear strike.
Responsible for all the Sleepers in Friday's private hospital, she needs all the help she can get, particularly as Leaf herself has become a target for intruders from the House.And the tide of Nothing continues to rise, destroying everything in its path . . .
Information
Format: Paperback
Pages: 384 pages
Publisher: HarperCollins Publishers
Publication Date: 01/03/2010
Category: Fantasy
ISBN: 9780007175130
Free Home Delivery
on all orders
Pick up orders
from local bookshops
Reviews
Showing 1 - 2 of 2 reviews.
Review by kw50197
16/06/2015
A bitter sweet ending which prevents me from really loving the book.
Review by shanaqui
16/06/2015
Alas! Due to a gig, I was unable to read Lord Sunday entirely on Sunday. I did read most of it, though, and finished it on my train ride this morning. That was pretty unfortunate, when I got to the part where Elephant plays his part, because it made me cry, as Elephant always has, in this book. I knew Garth Nix wouldn't treat Elephant well. I am shaking my fist at you, sir. Oh, it was meaningful and lovely, and well done: bringing in a soft toy and bringing it to life could easily be over-sentimental, even for a soft toy lover. But this wasn't. It was just touching, and I ached to be able to bring my own soft toy -- a hippo -- to life.<br/><br/>As the end to the series, I found it appropriately exciting, vivid and satisfying. I'm not disappointed it's over -- it was all followed through quite well, and it doesn't leave me wanting, I guess is what I mean. I do want more of Garth Nix's writing, but he ended in just the right place, here.
Also in the The Keys to the Kingdom series | View all