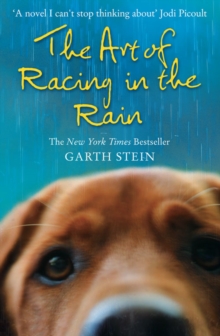 The Art of Racing in the Rain
Paperback
Description
A heart-warming and inspirational tale in which Enzo, a loyal family dog, tells the story of his human family, how they nearly fell apart, and what he did to bring them back together. Enzo knows he is different from other dogs: he thinks and feels in nearly human ways.
He has educated himself by watching extensive television, and by listening very closely to the words of his master, Denny Swift, an up-and-coming race car driver.
Through Denny, Enzo realizes that racing is a metaphor: that by applying the techniques a driver would apply on the race track, one can successfully navigate the ordeals and travails one encounters in life. Enzo relates the story of his human family, sharing their tragedies and triumphs.
In the end, despite what he sees as his own limitations as a dog, Enzo comes through heroically to preserve the Swift family. The Art of Racing in the Rain is a testament to a man's life, given by his dog.
But it is also a testament to the dog, himself. Though Enzo cannot speak, he understands everything that happens around him as he bears witness to his master's problems.
His enforced muteness only refines his listening ability, and allows him to understand many of life's nuances that are lost on most humans.
With humour, sharp observation, and a courageous heart, Enzo guides the reader to the bittersweet yet ultimately satisfying conclusion: there are no limitations to what we can achieve, if we truly know where we want to be.
Information
Format: Paperback
Pages: 336 pages
Publisher: HarperCollins Publishers
Publication Date: 01/03/2009
Category: Fiction
ISBN: 9780007281190
Other Formats
EPUB from £0.99
eAudiobook MP3 from £32.90
Free Home Delivery
on all orders
Pick up orders
from local bookshops
Reviews
Showing 1 - 2 of 2 reviews.
Review by AdonisGuilfoyle
16/06/2015
Any book about a dog where the opening chapter brings tears to my eyes (on public transport, too!) is never going to be a happy story, but like <i>Marley and Me</i>, there are a lot of heart-warming, amusing moments before the inevitable ending. <i>Racing in the Rain</i> actually reminded me more of <i>The Dogs of Babel</i> by Caroline Parkhurst, only the dog gets the last word here. Enzo narrates the story of his life, from his puppyhood on a farm, to meeting his beloved master Denny, and sharing the grief and bitter consequences of losing Eve, Denny's wife, to cancer. The major human events of death and parenthood are actually secondary to the wise words and racing metaphors of Enzo, who believes that he will be reincarnated as a human when he has learned all he has to know as a dog. I loved Enzo, although it might have been the chocolate labrador on the cover which tipped me over the edge! That bond between dogs and their masters, especially when the owners actually earn such unconditional devotion, has a strong emotional pull that is hard to resist, and Stein plays Enzo's love for Denny just right. The ending is a little too pat, and the canine perspective overdone in places, but I loved the racing scenes and Enzo's life philosophy (and going on the number of sections highlighted in the Kindle version, so did many other readers!)Not as funny as <i>Marley and Me</i>, but nowhere near as sadistic as <i>The Dogs of Babel</i> (I wanted to report that book to the RSPCA), I would recommend <i>The Art of Racing</i> to dog lovers everywhere. (Don't forget the tissues!)
Review by ablueidol
16/06/2015
Well some good bits first. It did help me understand more about car racing. And yes I liked the title as the theme for the story – we can get through the bad times etc. But the characters are flat and boarding on cliché – the kooky, brave loyal wife, the cute kid, the in-laws from hell , the silent strong hero struggling to do the best for his loved ones. In short, classic TV movie fodder. The use as a dog as the central narrator does allow for some interesting takes on the events but it gradually beggars belief – he can bark twice as requested to urge speed but can't work any other code out in his time with the family? Then its downhill for me as the plot unfolds. The wife suffers months/years of a mega serious illness but loving husband and in-laws from hell don't get her to the hospital ( so why no coven of friends fighting her corner?) But once in and the consequences known, wife and child go to live with in-laws from hell and so create the added complications of the plot. And he's working in some vague back office job yet manages to raise the serious levels of sponsorship needed for professional racing almost in passing. I suspect that as a spoken book and a film with the right cast it might work as character depth could be injected but for me it's the first abandoned book of the year.