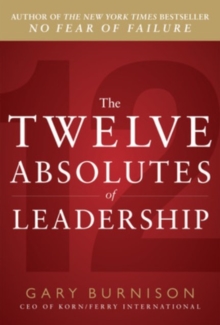 The Twelve Absolutes of Leadership
Hardback
Description
ALL IN, ALL THE TIMEFor Gary Burnison, CEO of the world's largest executive search firm, these five simple words perfectly capture the essence of great leadership.
There can be no half measures. Complete commitment, total engagement, and a powerful sense of personal responsibility are the criteria for true leadership excellence.
It's more than a job; it's a way of life. But how do you get there? In this groundbreaking book, Burnison provides the answer. As the leader of Korn/Ferry International, Burnison is particularly well qualified to write a guide to effective leadership.
On a personal level, he experiences every day what it's like to be responsible for the lives of others, the careers of his employees, and the expectations of stakeholders.
He also deals one-on-one with some of the world's top leaders. In The Twelve Absolutes of Leadership, Burnison distills this vast experience into an actionable plan for building world-class leadership skills.
You'll learn how to train your focus on the twelve most critical elements of leadership, so you canEstablish your vision and develop a strategy for achieving itInspire your people to embrace the change you envisionMeasure the effectiveness of your leadershipBuild powerful teams that are aligned in purpose and strategyForesee new opportunities and adjust your course to meet themNothing in business or life generates greater personal satisfaction than affecting peoples' lives in a positive way through excellent leadership.
Burnison refers to it as the "eighth wonder of the world."The prospect might seem daunting, but Burnison makes it more accessible than you thought possible.
He presents a framework based on enduring human truths, which is applicable in every leadership role and arena.
All you have to do is apply it with dedication and determination. You have the ability. Take your first steps to leadership excellence with The Twelve Absolutes of Leadership. Praise for The Twelve Absolutes of Leadership:"In The Twelve Absolutes of Leadership, Gary Burnison captures the timeless principles that leaders must possess, beyond intelligence, courage and heart.
These essential elements speak to the integrity and authenticity that underscore all effective leadership."-Carlos Slim, entrepreneur, Investor, and the world's richest man"Only a few good leaders have paused to reflect seriously on being leaders.
Xenophon and Ulysses S. Grant did, and now Gary Burnison can be added to the list.
This is not a business book. This is a book about the business of life."-P.J. O'Rourke, political satirist, journalist, and author"Gary Burnison has distilled leadership into its essential elements-the absolute truths about leadership that apply in every arena.
For those who want to know what leadership is all about, this book has the answers."-Lt.
Gen. (Ret.) Franklin "Buster" Hagenbeck"Leadership is the most important ingredient in any successful organization.
Gary Burnison explores the essential elements of leadership through conversations with some of the world's most seasoned and accomplished leaders."-Eli Broad, founder of The Broad Foundations, KB Home, and SunAmerica"Gary Burnison's wisdom and insight cut straight to the heart of the matter-to the essential elements of any leadership framework.
His stories, observations, and conversations with leaders artfully illustrate these principles, applicable to everyone."-Vicente Fox, former President of Mexico
Free Home Delivery
on all orders
Pick up orders
from local bookshops