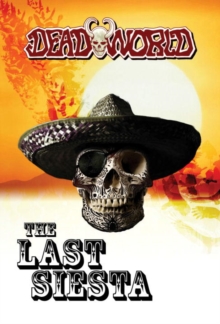 Deadworld: The Last Siesta
Paperback / softback
Description
An original graphic novel set in the supernatural holocaust ofDeadworld!
Outside of the dusty and remote town of Juarez, Mexico, newlaws have replaced what was once called civilization.
The old laws don'tapply to the dead - the walking dead - so there had to be newones.
One of the wielders of this new law was the mysterious wanderer, Raga, whowas known in the whispers swirling around the land as simply, "TheAssassin." There was nothing living...or dead, that he hadn'tkilled.
But now he had a new challenge. However, his plans get disrupted by anunexpected force - the King Zombie and his hoards of zombies!
You may beable to kill what's already dead, but how many times?Deadworld scribe Gary Reed hooks up with Gary Francis of YoungDracula fame to present this chilling tale, with brilliant greywash art byMark Bloodworth (Hellraiser, The Ripper Legacy).
Information
Format: Paperback / softback
Pages: 112 pages
Publisher: Idea & Design Works
Publication Date: 11/10/2011
Category: Comics and Graphic Novels
ISBN: 9781613770443
Free Home Delivery
on all orders
Pick up orders
from local bookshops