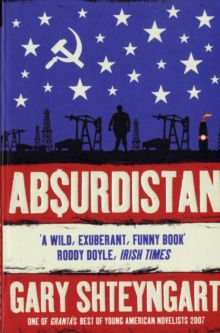 Absurdistan : A Novel
Paperback
Description
Meet Misha Vainberg, aka Snack Daddy, a 325-pound disaster of a human being, son of the 1,238th-richest man in Russia and proud holder of a degree in multicultural studies from Accidental College, USA.
Misha is an American impounded in a Russian's body and the only place he feels at home is New York; he just wants to live in the South Bronx with his Latina girlfriend, but after his gangster father murders an Oklahoma businessman in Russia, all hopes of a U.S. visa are lost. Salvation lies in the tiny, oil-rich nation of Absurdistan (a fictional former Soviet republic), where a crooked consular officer will sell Misha a Belgian passport.
But after a civil war breaks out between two competing ethnic groups and a local warlord installs hapless Misha as minister of multicultural affairs, our hero soon finds himself covered in oil, fighting for his life, falling in love, and trying to figure out if a normal life is still possible in the twenty-first century.
Information
Format: Paperback
Pages: 352 pages
Publisher: Granta Books
Publication Date: 04/02/2008
ISBN: 9781847080066
Free Home Delivery
on all orders
Pick up orders
from local bookshops
Reviews
Showing 1 - 2 of 2 reviews.
Review by xcia0069
16/06/2015
A novel of dazzling comic invention, spraying its satirical fire in many different directions - the moral and democratic vacuum in the New Russia, leaving it in thrall to tacky gangsters and prey to cheap Americanisms. The utter folly of the US attempts to export democracy to regimes 'in need of changing'. And the popular wave of corruption that follows this greenback route to democracy, with multiple parties jumping on multiple bandwagons - multiculturalism, free market trade, private finance, energy panic, holocaust studies. All undertaken by parties exploiting liberal blindess as to the whereabouts of the limits of tolerance.At times, the book is little artificial, as characters pop up on springs and then are pressed back down again once they have had their comic effect. But the creations and conceits have a laugh out loud quality. Oleg the Moose and his syphilitic sidekicks; the war of the Sevo / Sveni footrest; or even the eye-poppingly risky chapter-length bid for an Museum / Institute for Holocaust Studies. And by intertwining the comic and the political so effectivly, the author manages to hit many of the festering political themes that fertilise satires such as this.
Review by Kanikoski
16/06/2015
I approached this with some reservations, partly on account of the title. The dark, brash humour of the prologue won me over immediately, however, and some way into the read I realised the extent to which this book effectively draws on the rich traditions of savage wit and satire. The first sections have distinct Rabelaisian shades, with the narrator (a modern-day Gargantua in the form of a drunk Russian Jew) undergoing adult circumcision in a Hasidic clinic in Brooklyn. Later, this moves into more explicitly political waters reminiscent of Jonathan Swift, and it is surely no coincidence that a satirical vision of how the Holocaust may be rebranded for a new generation takes one of Swift's own titles, 'A Modest Proposal'. The imagery in much of the book is powerfully physical, which suits the narrator, dwelling much on his twin pleasures of food and sex. Furthermore, the understated ending, given the clear signals to what happens afterwards, packs a deceptive punch.