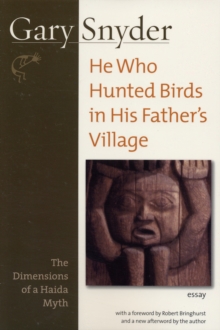 He Who Hunted Birds in His Father's Village : The Dimensions of a Haida Myth, With a Foreword by Richard Bringhurst and a New Afterword by the Author
Paperback / softback
Description
In 1951, as a student of anthropology in Oregon, Gary Snyder set himself to the task of analyzing the many levels of meaning a single Native American myth might hold.
He Who Hunted Birds in His Father's Village is the result of Snyder's critical look at a Haida tale that was told by the great oral poet Ghandl (Walter McGregor) to John Swanton sometime before 1905.
A version of the ubiquitous � swan maiden" story, it tells of a chief's son who falls in love with a wild goose-girl, loses her, follows her into the sky, and returns to land as a seagull.
Snyder goes deep into the transformations that occur in the myth, considering versions of myth from around the world, and explaining how the story might apply here and now.
He writes:To go beyond and become what-a seagull on a reef?
Why not. Our nature is no particular nature; look out across the beach at the gulls.
For an empty moment while their soar and cry enters your heart like sunshaft through water, you are that, totally.
We do this every day. So this is the aspect of mind that gives art, style, and self-transcendence to the inescapable human plantedness in a social and ecological nexus.
The challenge is to do it well, by your neighbors and by the trees, and that maybe once in a great while we can get where we see through the same eye at the same time, for a moment.
That would be doing it well. Old tales and myths and stories are the k_ans of the human race.
Information
Format: Paperback / softback
Pages: 160 pages
Publisher: Counterpoint
Publication Date: 01/05/2007
Category: Folklore, myths & legends
ISBN: 9781593761554
Free Home Delivery
on all orders
Pick up orders
from local bookshops