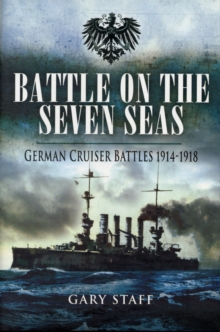 Battle on the Seven Seas: German Cruiser Battles 1914 - 1918
Hardback
Description
The cruisers of the Imperial German Navy (Kaiserlische Marine) were active throughout the First World War and saw action all around the globe, tying up valuable Allied naval resources out of all proportion to their number.
Drawing on first-hand accounts and original research in German archives, the author here describes in detail some of their most significant and/or audacious battles.
Some are well known, such as their role at Jutland, Goeben's attack on the Russian fleet (which brought Turkey into the war) and the sagas of Konigsberg and Emden; but others have been unduly neglected.
Gary Staff deliberately focuses on the latter to bring new material to the attention of the reader and to demonstrate the global span of the cruisers' activities. The blow-by-blow accounts of the action (drawing heavily on first-hand Allied and especially German accounts) are supported by dozens of photographs, many previously unpublished, from the author's own impressive collection.The battles described include: Helgoland Bight, August 1914; Coronel, November 1914; Falklands December, 1914; Doggerbank, January 1915; Goeben and the Russian fleet, Black Sea, May 1915; Ostergarn July 1915; Jutland, 1916; Second Heligoland Bight, November 1917; Imbros, January 1918.
Information
Format: Hardback
Pages: 224 pages, 12 maps, 50 b/w photos
Publisher: Pen & Sword Books Ltd
Publication Date: 24/03/2011
Category: European history
ISBN: 9781848841826
Free Home Delivery
on all orders
Pick up orders
from local bookshops
Reviews
Showing 1 - 1 of 1 reviews.
Review by DinadansFriend
16/06/2015
It is rare to have an English language book dealing with the German naval campaigns of WWI that did not involve the Royal Navy. The English speaking reader has no idea of the actions in the Baltic and the Black sea covered by this book. Therefore the value of this publication is obvious. The other value is that the battles are related from the standpoint of the German scouting forces, which adds an interesting dimension to the narratives of Jutland and Dogger Bank. Alas, a larger map covering the Baltic Sea, which would help in locating the battle areas is missing, and that means the maps covering the actual tactics are less helpful than they might have been. Mr. Staff's command of English is a bit doubtful, and some of his text suffers from odd vocabulary and syntax. The verb "to rend" hasn't seen this much use in centuries. Other points of this nature are measuring gun ranges in HMs which are hundreds of metres rather than the common English speaking practice of using thousands of yards. Another bit of useful vocabulary would be an explanation that the abbreviation "AG" means "Scouting Group" or "Recon Force".It is a very useful book, necessary for calling your WWI naval collection complete and balanced.