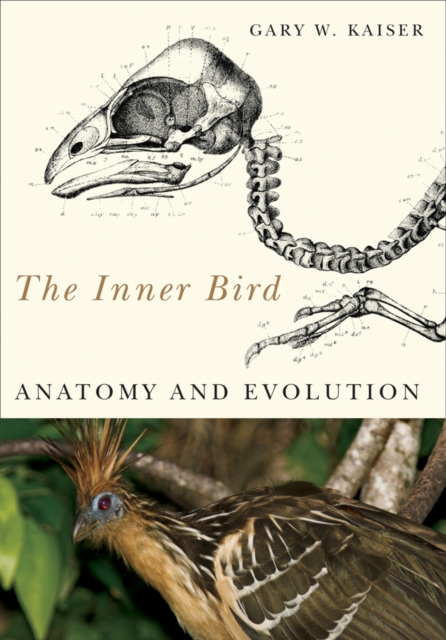 The Inner Bird : Anatomy and Evolution
Paperback / softback
Description
Birds are among the most successful vertebrates on Earth.
An important part of our natural environment and deeply embedded in our culture, birds are studied by more professional ornithologists and enjoyed by more amateur enthusiasts than ever before.
However, both amateurs and professionals typically focus on birds' behaviour and appearance and only superficially understand the characteristics that make birds so unique. The Inner Bird introduces readers to the avian skeleton, then moves beyond anatomy to discuss the relationships between birds and dinosaurs and other early ancestors.
Gary Kaiser examines the challenges scientists face in understanding avian evolution - even recent advances in biomolecular genetics have failed to provide a clear evolutionary story.
Using examples from recently discovered fossils of birds and near-birds, Kaiser describes an avian history based on the gradual abandonment of dinosaur-like characteristics, and the related acquisition of avian characteristics such as sophisticated flight techniques and the production of large eggs.
Such developments have enabled modern birds to invade the oceans and to exploit habitats that excluded dinosaurs for millions of years. While ornithology is a complex discipline that draws on many fields, it is nevertheless burdened with obsolete assumptions and archaic terminology.
The Inner Bird offers modern interpretations for some of those ideas and links them to more current research.
It should help anyone interested in birds to bridge the gap between long-dead fossils and the challenges faced by living species.
Information
Format:Paperback / softback
Pages:464 pages, 64 illustrations, 11 tables
Publisher:University of British Columbia Press
Publication Date:01/02/2008
Category:
ISBN:9780774813440
Information
Format:Paperback / softback
Pages:464 pages, 64 illustrations, 11 tables
Publisher:University of British Columbia Press
Publication Date:01/02/2008
Category:
ISBN:9780774813440