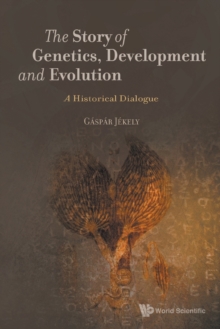 Story Of Genetics, Development And Evolution, The: A Historical Dialogue
Paperback / softback
Description
This unique story offers an introductory conversation to genetics, embryology and evolution, taking us on a historical journey of biology through the ages.
Using a series of dialogues between the Greek philosopher Democritus and his disciple Alkimos, we travel through time visiting eminent scientists throughout the centuries, from Lazzaro Spallanzani and Theodor Boveri to Francis Crick, Max Perutz and Christiane Nusslein-Volhard.
We find ourselves at the intersection of competing theories in biology and witness the progression from the debunking the theory of spontaneous generation to the mapping of the genome.
Attention is given not only to the great successes in the field but also to the equally important and exciting failures.Originally published in Hungarian, The Story of Genetics, Development and Evolution provides a historical background to the life sciences, with complex scientific concepts stripped down and explained carefully for academics and anyone interested in going back to the roots and philosophies of scientific progress.Translated from: Jekely G Master, are you awake?
A fictitious dialogue on genetics, development and evolution. 2006, Bratislava: Kalligram
Information
Format: Paperback / softback
Pages: 540 pages
Publisher: World Scientific Europe Ltd
Publication Date: 17/01/2018
Category: History of science
ISBN: 9781786342539
Free Home Delivery
on all orders
Pick up orders
from local bookshops