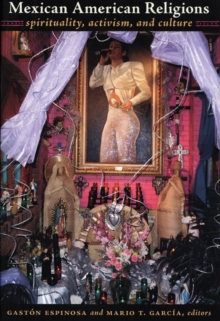 Mexican American Religions : Spirituality, Activism, and Culture
Hardback
Description
This collection presents a rich, multidisciplinary inquiry into the role of religion in the Mexican American community.
Breaking new ground by analyzing the influence of religion on Mexican American literature, art, activism, and popular culture, it makes the case for the establishment of Mexican American religious studies as a distinct, recognized field of scholarly inquiry.
Scholars of religion, Latin American, and Chicano/a studies as well as of sociology, anthropology, and literary and performance studies, address several broad themes.
Taking on questions of history and interpretation, they examine the origins of Mexican American religious studies and Mario Barrera's theory of internal colonialism.
In discussions of the utopian community founded by the preacher and activist Reies Lopez Tijerina, Cesar Chavez's faith-based activism, and the Los Angeles-based Catolicos Por La Raza movement of the late 1960s, other contributors focus on mystics and prophets.
Still others illuminate popular Catholicism by looking at Our Lady of Guadalupe, home altars, and Los Pastores dramas (nativity plays) as vehicles for personal, social, and political empowerment.
Turning to literature, contributors consider Gloria Anzaldua's view of the borderlands as a mystic vision and the ways that Chicana writers invoke religious symbols and rhetoric to articulate a moral vision highlighting social injustice.
They investigate the role of healing, looking at it in relation to both the Latino Pentecostal movement and the practice of the curanderismo tradition in East Los Angeles.
Delving into to popular culture, they reflect on Luis Valdez's video drama La Pastorela: "The Shepherds' Play," the spirituality of Chicana art, and the religious overtones of the reverence for the slain Tejana music star Selena.
This volume signals the vibrancy and diversity of the practices, arts, traditions, and spiritualities that reflect and inform Mexican American religion. Contributors: Rudy V. Busto, David Carrasco, Socorro Castaneda-Liles, Gaston Espinosa, Richard R.
Flores, Mario T. Garcia, Maria Herrera-Sobek, Luis D. Leon, Ellen McCracken, Stephen R. Lloyd-Moffett, Laura E. Perez, Roberto Lint Saragena, Anthony M. Stevens-Arroyo, Kay Turner
Information
Format: Hardback
Pages: 456 pages, 33 illustrations
Publisher: Duke University Press
Publication Date: 08/07/2008
Category: Regional studies
ISBN: 9780822340980
Free Home Delivery
on all orders
Pick up orders
from local bookshops