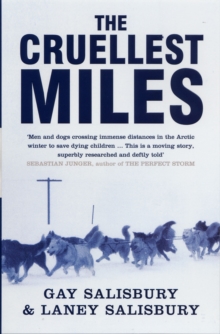 The Cruellest Miles : The Heroic Story of Dogs and Men in a Race Against an Epidemic
Paperback / softback
Description
It is 1925. The goldrush town of Nome sits two degrees below the Arctic Circle, and there are few more forbidding places on earth.
When signs of diptheria broke out, Dr. Curtis Welch knew it was the biggest crisis of his life.
Supplies of the serum were dangerously low and it was winter.
There would be an epidemic if the medicine didn't arrive in time.
Welch's urgent plea for help made national headlines and all of America watched with bated breath to see if an expedition could reach Nome in time.
The dangers were immense for Nome was utterly isolated.
The only option was to get the serum to the nearest point by rail and then use a relay of dog sleds to trek through the remaining 700 miles, night and day, and in blizzards raging at - 60 degrees.
It was to be a desperate race against time - one that captured the imagination of America and turned the drivers and their heroic dogs into celebrities of the time.
THE CRUELLEST MILES is the heart-pounding account of the famous Serum Run.
Unbearably thrilling and tense, this is a classic story of human (and canine) endurance and heroism.
Information
Format: Paperback / softback
Pages: 320 pages
Publisher: Bloomsbury Publishing PLC
Publication Date: 07/06/2004
Category: Biography: general
ISBN: 9780747568582