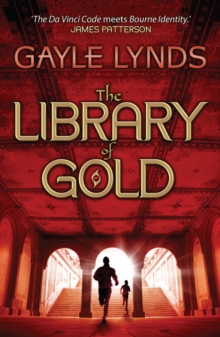 The Library of Gold
Paperback
Description
AN ANCIENT LIBRARY Ivan the Terrible's Library of Gold was a legendary archive of secret knowledge.
It vanished from history centuries ago... Now one of its fabled volumes has come to light. A MODERN CONSPIRACY The CIA has linked the long-lost book, a shadowy cabal, and a terrifying new threat to global security: the library must be found.
But with one agent already murdered for knowing too much, who will take up the hunt? A DEADLY MISSION Rare books expert Eva Blake is determined to clear her name after a spell behind bars.
Judd Ryder is a one-time spy with a troubled past. Both have nothing to lose, except their lives. Racing from London to Rome, Istanbul to Athens, these desperate treasure hunters must find the library - before its keepers find them.
Information
Format: Paperback
Pages: 512 pages
Publisher: Atlantic Books
Publication Date: 01/02/2011
Category: Crime & mystery
ISBN: 9781848876897
Free Home Delivery
on all orders
Pick up orders
from local bookshops
Reviews
Showing 1 - 3 of 3 reviews.
Review by everfresh1
16/06/2015
It is just like Dan Brown and Da Vinci Code - bad writing, wooden characters - minus interesting ideas and well researched subject
Review by shanaqui
16/06/2015
The Library of Gold is a somewhat typical thriller. I sort of don't have any patience for that sort of thing lately, since I'm trying to get through my backlog a bit -- and like I said, this is typical of the genre, with infodumps and long lists of names and short snappy chapters. It was compelling enough that I kept paging through it, but not so much that I didn't skim.<br/><br/>I was really interested by the premise, though, and I definitely didn't skim the historical notes at the end. My sister reckons I can find bookshops by smell -- maybe they should take me to Russia to try and sniff out Ivan the Terrible's library. On the other hand, I'm not exactly welcome in Russia since I'm a walking talking bit of "homosexual propaganda" and have actually signed a petition saying I will not visit St Petersburg. Oh well! Still, the idea of Ivan the Terrible's library is well worth half a dozen thrillers, to my mind. I'll give it three stars just for bringing my attention to such an intriguing bit of history.
Review by bbbart
16/06/2015
The cover says it all: The Da Vinci code meets Bourne Identity. Only, it has less action than Bourne Identity and less mystery than the Da Vinci Code.<br/><br/>Even though the story nor the characters are really remarkable in any way, I did enjoy the book. Reading The Library of Gold is a nice pastime. It reads very fluently and it keeps you wanting to read the next page from beginning to end.
Also in the JUDD RYDER AND EVA BLAKE SERIES series