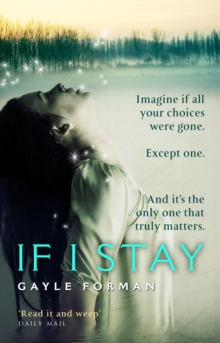 Description
Life can change in an instant. A cold February morning . . . a snowy road . . . and suddenly all of Mia's choices are gone. Except one. As alone as she'll ever be, Mia must make the most difficult choice of all.
Gripping, heartrending and ultimately life-affirming, If I Stay will make you appreciate all that you have, all that you've lost - and all that might be.
Information
Format: Paperback
Pages: 272 pages, none
Publisher: Transworld Publishers Ltd
Publication Date: 13/05/2010
ISBN: 9780552775458
Other Formats
Paperback from £6.09
EPUB from £4.99
Free Home Delivery
on all orders
Pick up orders
from local bookshops
Reviews
Showing 1 - 5 of 5 reviews.
Review by helen295
16/06/2015
Until today, the biggest decision seventeen-year-old Mia has faced is whether to go to Juilliard to study music or stay at home with her family and boyfriend. Now she has an even more important choice to make: a choice between life and death.It's been snowing outside and school has closed for the day. Mia, her parents and her younger brother Teddy decide to take advantage of the unexpected day off to visit friends. They pile into the car, laughing, joking and arguing about which music to listen to, like any other family going on a drive. The next thing Mia knows, she's standing in a ditch looking down at the wreckage of their car. At first she thinks she's survived unscathed, but then she discovers her own body, unconscious on the ground...One of the reasons I enjoyed this book so much was because Mia was a character I really cared about. She seemed a genuinely nice person, the type of girl I would have liked to have been friends with at school. She does have some insecurities - she loves playing the cello and listening to classical music for example, and worries that she's too incompatible with Adam, her rock musician boyfriend - and these are explored throughout the book. I liked the way the musical aspect of the book was handled to show how people from different musical backgrounds are able to respect each other's tastes and how music can form a bond between them. At the end of the book Gayle Forman gives us her reasons for choosing the various songs that are mentioned in the story, which I thought was a nice idea.I don't read many young adult novels anymore but I probably should, because it means I'm missing out on great books like this one. Although If I Stay may sound like a dark and depressing book, it's actually not. It's a moving, emotional story about the importance of love and friendship and is a book that can be enjoyed by both adults and teens.
Review by wyvernfriend
16/06/2015
The story starts off with a family, heading off on a slightly snowy day. They're involved in a terrible car accident and the daughter survives and this is the story of the daughter, Mia, her life, as she watches almost as a ghost to what's going on. She's wondering if she should stay, knowing that the road to recovery is going to be long, or should she go. Through flashbacks we're told about her life and who is important to her. I liked it, there were moments when it did make me twitch a bit but overall I thought it was an interesting read. The flashbacks were handled well and the story swept me up and made me keep reading to find out. I do think she would have been more concerned about her hands and arms though as a musician!
Review by joanasimao
16/06/2015
This book felt SO real. Seriously, one of the most realistic YA books I've ever read.<br/><br/>You're just really caught up in what it would be like to be Mia, the girl-who-apparently-has-everything and is suddenly faced with this impossible choice.<br/><br/>Even the little secondary characters are perfectly thought out and crafted, like the ICU nurses and Adam's hipster entourage.<br/><br/>Everything considered, the dramatic factor isn't overdone at all! It was like going on an emotional roller coaster, I caught myself smiling through my tears so many times reading this [BTW I don't cry at books THAT often], and at the end I just this blubbering mess of interrupted ugly crying/smiling because even though you know that Mia's future is going to be tough, you're just left with this notion of the all the different kinds of love she has pushing her forward.<br/><br/>I don't know if it is because Mia reminded me so much of myself, or that her relationship with Adam is so close to mine, or that her parents and brother are everything I wish my family could be, but I know this is one of those books that will stay with me for a long time.<br/>
Review by bookish92
16/06/2015
Rating 3.5.<br/>This book was just OK for me, it wasn't great and it wasn't terrible. I thought that for a book which deals with such a sad topic, it kind of lacked any emotion. <br/>It was a quick read and reasonably enjoyable, but I wouldn't read it again.<br/>Overall I guess I would say that I was just underwhelmed by the book.
Review by ellsie98
16/06/2015
The second book ever to make me cry; the first being Charlotte's Web when I was six.