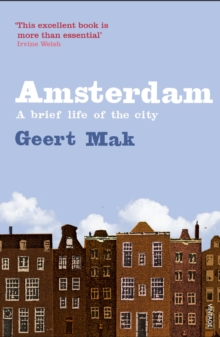 Description
A magnet for trade and travellers from all over the world, stylish, cosmopolitan Amsterdam is a city not only of dreams and nightmares, of grand civic architecture and legendary beauty, but also of civil wars, bloody religious purges, and the tragedy of Anne Frank.
In this fascinating examination of the city's soul, part history, part travel guide, Geert Mak imaginatively recreates the lives of the early Amsterdammers, and traces Amsterdam's progress from waterlogged settlement to a major financial centre and thriving modern metropolis.
Information
Format: Paperback
Pages: 352 pages
Publisher: Vintage Publishing
Publication Date: 15/12/1999
Category: European history
ISBN: 9781860467899
Free Home Delivery
on all orders
Pick up orders
from local bookshops
Reviews
Showing 1 - 2 of 2 reviews.
Review by jcbrunner
16/06/2015
Geert Mak is an excellent observer and writer of vignettes and people. This book about Amsterdam is at its best when Mak narrates Rembrandt drawing an executed woman, exploring both the plights of that poor woman and the ups and downs in the life of the famous artist. While the book offers a good account of the ebb and flow of Amsterdam's economically driven development, it fails to situate Amsterdam in relation to its neighboring cities and the states. Amsterdam's position within the Holy Roman Empire as well as part of the Habsburg Empire are hardly mentioned. Its rivalries with The Hague, Utrecht, Rotterdam and London are also missing, as are many of the world's greatest minds and artists (Spinoza, van Gogh, Mondrian, ...). Amsterdam thus comes across as a rather plodding city. Curiously, Mak doesn't mention Amsterdam's football club either. Overall, a good if sketchy portrait of the city.
Review by Widsith
27/08/2015
A DUTCH DOZEN1. Amsterdam has a long history of thriftiness, of modesty. In the eighteenth century, Widow Pels, the city's richest inhabitant, had no more than five servants. In the 1990s, a local executive wrote to airline KLM to ask them to tone down their business-class service: 'A cheese sandwich and a glass of milk are more than enough as far as I am concerned.'2. If you want to ward off witchcraft, you can follow the example of one medieval Amsterdammer, who hung 'a pot full of new needles into which she had pissed' over the fire. (It may not have worked – she ended up confessing to having bewitched cattle, and was burned at the stake on the Dam.)3. At the height of the tulip mania of the seventeenth century, the most prized variety was called Semper Augustus. It had 'impeccably white petals with small veins of a fiery red running though them, the base of the bloom as blue as the skies'. A single bulb cost 5,000 guilders, which was about the same price as a house with large garden. (Presumably a garden with no Semper Augustuses in it.)4. The poor in early modern Amsterdam had two ways out. For women, prostitution (natch); for men, the near-suicidal VOC ships to the East Indies. These were supplied with crews in large part through groups of pressgangers known as zielverkopers (soul merchants), and between shipwrecks and disease little more than a third of sailors would make it back alive. The prostitution, meanwhile, was even then something of a draw for the city, with the best girls having their own well-known nicknames: 'The Northern Cat', for instance, or 'Sweetie Cunt'.5. Actually, all women in Amsterdam society were known for their forwardness. When Casanova visited in 1759, he was amazed to be placed in a closed carriage alone with a beautiful 14 year old; 'Here we learn to be independent,' she said, seeing his surprise. When he tried to kiss her hand, she merely said, 'Why my hand?' Instead, according to his memoirs,she gave me a kiss that went straight to my heart. However, when she told me she would do the same in the presence of her father, should I enjoy it, I did not pursue the matter any further.6. The nineteenth century was surprisingly quiet given the artistic and social upheavals taking place in other parts of Europe. While various modernisms were being explored in Paris, Willem Bilderdijk and Da Costa founded a society in Amsterdam called 'Misgivings About the Spirit of the Age' (!). In 1848 some Communists organised a jobless rally; but when hundreds of people actually showed up, they were so surprised that no one dared to address the crowd, and eventually everyone wandered off home again.7. Amsterdam has a marked absence of monuments or state buildings; Mak refers to this as its anti-monumentalism, and he considers it characteristic of the city's undemonstrative psyche, not just a function of confused civic planning processes. 'The number of monumental buildings in Amsterdam dating from the nineteenth century can be counted on the fingers of one hand.' The main surviving example now is Central Station, which was pushed through from The Hague and widely regarded by authorities in Amsterdam itself as a disaster, 'an eternal and irreversible mistake'. It finally cut the old town off from the IJ, destroying its character as a true port city and ending the vistas of ship's masts and rigging that had previously dominated locals' and visitors' impressions of the place. This was followed by the filling in of nearly twenty canals, generally to become new streets.8. Sex work attempted to become slightly more discreet in the twentieth century. Two personal ads from the 1910s weekly Pst-Pst:FOR RENT: A SPACIOUS SITTING- AND BEDROOM IN THE PIJP, RENT 200 FLORINS A MONTH, INCLUDING USE OF GAS LIGHT AND OF A CHARMING 18-YEAR-OLD LADY. LETTERS UNDER NUMBER…I NEED AN HEIR. MY HUSBAND IS NOT IN ANY STATE TO PROVIDE ONE. WHO WILL DO SERVICE AS CREATOR? LETTERS UNDER "CREATOR" TO NUMBER…9. Mak is scathing on Amsterdam's self-image as a city that was full of resistors during the German occupation, noting that most authorities complied with the Nazi regime unquestioningly. Many saw themselves as minor bureaucrats, arranging for a certain train to run from A to B; the fact that the cargo was Jews did not concern them. In fact the train used to transport Jewish Amsterdammers to the camps in Germany and Poland was the same one every time, and some passengers realised this and hid letters on board for others to read. They tell of the arduous journey, how one girl sang songs, how a man told jokes to keep people's spirits up.But always the last sentence of these notes is the same. 'We have stopped at Auschwitz. We have to get out. It is a large factory city, because you can see a lot of chimneys.' Or: 'In the distance there is a building which is lit. 'Bye everyone, we'll be back soon.'Of the 80,000 Jews in Amsterdam before the war, 5,000 were left alive when the city was liberated in 1945. Mak notes that 'proportionally more Jews were deported from the Netherlands than from any other Western European country'.10. In the 60s the city had its own crazy countercultural group known as the Provos (not to be confused with the Provisional IRA; in this case the word came from 'provoke'). They liked to shout incomprehensible slogans at the police, like 'Gnot!' or 'Smurf the ones who smurf the smurfs!' Indeed, they had a plan to turn the local policeman into a sort of social worker who would carry 'matches and contraceptives and also oranges and chicken drumsticks for the hungry proletariat'. When they protested at Princess Beatrix's wedding, a marijuana expert, Kees Hoekert, succeeded in throwing a live chicken at the golden state coach. He had managed to convince security guards that 'the bird was called Eibertje Vos and that it wanted to have look at the queen'.11. The city has developed its own uniquely Amsterdammer interpretation of the law, by which authorities are entitled to prosecute a crime but are not obliged to do so – especially in cases where its prosecution is deemed more damaging than the offence itself, as with soft drugs or prostitution.12. This book is richly researched, well annotated, and comes in a fluent, unimposing translation by Philipp Blom. It makes me feel that I need to read more Dutch history; how can you not love a place where major upheavals are called things like The Hook and Cod Wars and The Eel Uprising?