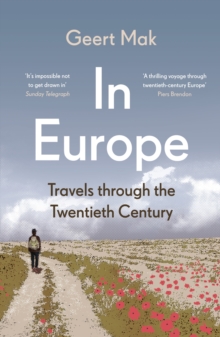 Description
Geert Mak spent the year 1999 criss-crossing the continent, tracing the history of Europe from Verdun to Berlin, St Petersburg to Auschwitz, Kiev to Srebrenica.
He set off in search of evidence and witnesses, looking to define the condition of Europe at the verge of a new millennium.
The result is mesmerising: Mak's rare double talent as a sharp-eyed journalist and a hugely imaginative historian makes "In Europe" a dazzling account of that journey, full of diaries, newspaper reports and memoirs, and the voices of prominent figures and unknown players; from the grandson of Kaiser Wilhelm II to Adriana Warno in Poland, with her holiday job at the gates of the camp at Birkenau.But Mak is above all an observer.
He describes what he sees at places that have become Europe's well-springs of memory, where history is written into the landscape.
At Ypres he hears the blast of munitions from the Great War that are still detonated twice a day.
In Warsaw he finds the point where the tram rails that led to the Jewish ghetto come to a dead end in a city park. And in an abandoned creche near Chernobyl, where tiny pairs of shoes still stand in neat rows, he is transported back to the moment time stood still in the dying days of the Soviet Union.
Mak combines the larger story of twentieth-century Europe with details that suddenly give it a face, a taste and a smell.
His unique approach makes the reader an eyewitness to his own half-forgotten past, full of unknown peculiarities, sudden insights and touching encounters. "In Europe" is a masterpiece; it reads like the epic novel of the continent's most extraordinary century.
Information
Format: Paperback
Pages: 896 pages
Publisher: Vintage Publishing
Publication Date: 01/03/2008
Category: European history
ISBN: 9780099516736
Free Home Delivery
on all orders
Pick up orders
from local bookshops
Reviews
Showing 1 - 2 of 2 reviews.
Review by MeditationesMartini
16/06/2015
Could this be the most superior bus/flight/beach book ever? Certainly for bumming around Europe the way I appear to be doing this year. Mak has an amazing journalistic feel for slashing out a sketch with the pithiest details and uncovering the symbolic gems in a mountain of trivia. It doesn't necessarily break new ground or add up to much, but it sure reminds you that the Nazis were bad dudes and that Europe had an intense and awful 20th century.
Review by RobertDay
16/06/2015
This is a major work of history masquerading as journalism and travel writing. Mak took a year to travel around Europe, following up the key events of the Twentieth Century, and often spoke to people who were either directly involved, or whose perspective gave them direct access to the times, personalities and places involved.This approach is fresh and immediate, though reading the book in 2012 does rather make one aware that it is itself already a work of history. When Mak writes fairly positively about the birth of the Euro, for example, it's hard not to allow oneself a wry smile at what his future held in store.To a British reader, perhaps the major strength of this book is the sense of "otherness" that comes from it not taking an Anglo-American perspective on events. The first person reportage drives home the fact that Britain is (politically, at least) "in" Europe, but does not feel itself to be "of" Europe. Mak's Dutch perspective is valuable and refreshing here. This book gives the ordinary reader a very clear view of what lies behind the European project, and it is clear that Mak feels European unity and peace to be the important outcomes of the historical process that unfolds before our eyes.At the end of the book, Mak writes at length about the disintegration of Yugoslavia. His analysis is particularly telling on the role of the Dutch UN peacekeeping troops in Srebrenica; some US and British readers might be a bit surprised at the reaction of the French UN commanders and their assessment of how they might have behaved under those circumstances. Again, this may say more about the narrowness of the mid-Atlantic view of Europe and its people than the French attitudes towards themseves.The book ends with some conclusions about the future direction of Europe, with the differing perspectives and objectives of the original member states of the EEC compared to the more recent accession states (mainly those from Eastern Europe). Again, from the point of view of ten years on, Mak's conclusion - that of the likelihood of a twin-track, twin-speed Europe - looks more likely. Perhaps this knowledge of the final objective of the European project has been commonly held and known throughout Europe all this time, and the British never had anyone admit it in plain words of one syllable before. If that be so, then this book is even more important that it at first might seem for Anglophone readers.The translation is pretty much flawless; proof-reading and sub-editing less so.