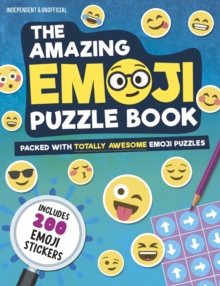 The Amazing Emoji Puzzle Book
Paperback / softback
Description
This is a new book that combines cool stickers, brilliantly brain-bending puzzles and emojis.
Welcome to The Amazing Emoji Puzzle Book. Kids can go puzzle crazy - emoji style! It is packed with over 80 creative and educational puzzles.
Pit yours wits against visual puzzles, missing-emoji games, logic problems and other tricky brain busters.
With a sheet of stickers to use to solve the puzzles and decorate your possessions adds an extra layer of emoji fun.
It includes 96 pages of mind-boggling emoji-themed puzzles, and stickers.
Some of the puzzles are sticker puzzles, so the stickers can be used to solve them.
Information
Format: Paperback / softback
Pages: 96 pages, Puzzle and emoji illustrations throughout, 200 stickers
Publisher: Welbeck Publishing Group
Publication Date: 04/05/2017
Category: Sticker & stamp books
ISBN: 9781783122899