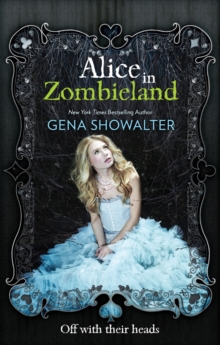 Alice in Zombieland
Paperback
Description
To avenge her family, Ali must learn to fight the undead.
To survive, she must learn to trust the baddest of the bad boys, Cole Holland.
But Cole has secrets of his own, and if Ali isn't careful, those secrets might just prove to be more dangerous than the zombies.
Information
Format: Paperback
Pages: 368 pages
Publisher: HarperCollins Publishers
Publication Date: 01/10/2012
Category: Romance
ISBN: 9781848451575
Free Home Delivery
on all orders
Pick up orders
from local bookshops
Reviews
Showing 1 - 5 of 11 reviews.
Previous | Next
Review by thebumblegirl
16/06/2015
What an amazing and unique story!!! Gena Showalter really outdid herself - and with a zombie story! And if you know me at all, you know that I am not a fan if zombies, I really don't understand the craze behind it, sorry! But the whole concept of this story being inspired by Alice in Wonderland really drew me in - and did not disappoint. Most of the time, I was able to pick out which characters were who and what imagery's where taken from the original 'Wonderland' story. A few where not so easy to figure out until after I finished reading it and had some time to think about it...Alice is your typical teen, for the most part she is happy and loves her family, especially her little sister. And even though her father is 'disturbed and paranoid' and doesn't allow the family to do certain things because of it, she seems to handle it well... most of the time.In a blink of an eye, Alice loses her family in a tragic car accident... was her father right? Were his nightmarish monster fears true?... but Alice is in too much pain to think twice about it. Her family is gone and now she has to go live with her grandparents in a neighboring town next to hers. Which also means she has to go to a new school, make new friends and try to live a life without her family. Without her little sister. She will just have to do what she can do for now...Until she meets Cole.The minute Alice's eyes land on Cole there is a fierce connection - but do not be discouraged, this is no insta-love in the making. This is something else, something more that needs to be figured out, and soon... it doesn't help that Cole is a badass with swoon-worthy good looks even with the tattoos and constant bruises. He is strong, a leader and will fiercely protect what is his. But don't let him fool you and push you away, there is a well-meaning and soft side to Cole that takes a while to poke into and get used to. He knows things, things that Alice has been guessing at and she needs him to tell her if she's right or if she is as crazy as her father was.Alice is strong and an amazing heroine - she is not afraid to feel her sadness, do what's right, speak her mind and surprisingly, with all that she's been through and continues to go through, has an amazing sense of humor. She will not be told what to do nor be backed into a corner. She is prepared to fight back to honor her family and protect her new family and friends.There is never a dull moment in 'Zombieland' - set at a great ongoing pace and never a predictable moment - the zombies are everywhere. And not in the way that you think they are. Few can see these zombies. And even fewer people can stop these zombies from killing, or worse, creating other zombies.A zombie-story like no other! Gena Showalter met all of my 'Wonderland' expectations and gave me so much more! Whether your a fan of fairy-tales or gory zombies, this is definitely a book to read and add to your shelf!
Review by Bookswithbite
16/06/2015
It's no surprise that I adored this book. I mean c'mon. It's Gena Freaking Showalter, queen of writing! I absolutely loved this story. Not only is the story building unique and exciting, it's gives the reader a whole new spin on Alice In Wonderland. What's really cool about this book is the new plot. I like that all elements that were in the classic are intrinsically intertwined with every chapter. The bold plots grabs the reader from the start with Ali's life that is all of sudden turned upside down. It's paced well so it gives the reader time to invest in each character unraveling them slowly before the reader eyes.The love interest is definitely unique. The carefully written bonds that form with the love interest leave me wanting more. I really like the paranormal twist to the story. It amazed me of how well it flowed and made sense in the story. Once in the story you see everything unfold and you can't help but feel amazed of what your reading.The result is an gripping smart story that leads deeper into the rabbit hole. Alice In Zombieland has enough brilliance that it spills over every single page. A very fulfilling, amazing story, Alice In Zombieland rocks my socks off!
Review by jwitt33
16/06/2015
OMG! OMG! OMG! This book was as awesome as they get! I just this minute finished it and I had to get on here and say OMG! And just in case I need to spell out how I feel about it, I LOVED it! I figured I would because I love Gena Showalter's books in general, but I literally read it every second I could because it was just THAT good! I started it yesterday at about noon, and I finished it today at about noon, which is pretty good for me!Alice has led a totally sheltered life due to the fact that her dad sees monsters where no one else does, and to keep his family safe he keeps them pretty much on lock down 24/7. On Alice's 16th birthday she guilts her parents into taking her to her little sister Emma's ballet recital, which means being out after dark, and because of this she loses her entire family at once. She moves in with her Nana and Pops, changes her name to Ali, and vows to fight the evil that killed her family. Add to this the fact that she has to switch schools and ends up with a new best friend and a weird relationship with the hottest, baddest ass at the school, and her new life is off to a roaring start!I loved the characters in this book. Ali is such an innocent at the beginning of the book, but when she decides to take her head out of her .... umm, I mean out of the sand, she isn't fooling around! And Kat is the best friend that all of us want to have: she's funny, snarky, full of herself in the best way, and totally loyal to a fault. Then there's Cole, the bad boy that we were all attracted to in high school, but who scared the heck out of us! Ali and Cole have a totally unique start, and that's all I'm going to say about that because I don't want to ruin any surprises for you! Suffice it to say, they are meant to be together, if they can just get out of their own way to get there!Seeing as how this is one of Gena's books, I probably don't have to say that the pacing is perfect and the action is awesome, but I will! The main characters were great, but even better are the secondary characters! Each one has their own unique voice and there's tons of growth from start to finish. I think two of my favorites were Nana and Pops. When they take Ali in, they go out of their way to make her feel comfortable, going so far as learning the slang that all the kids use nowadays, usually with hilarious results! One of my favorite examples is when they're talking to Ali before she goes to a party at her new friend Reeve's house:"Reeve." Pops pursed his lips. "That sounds like a made-up name to me. What exactly will be crackalackin at this party? Will her parents be there?"Again with the horrible slang, the adorable man. "We'll swim, talk, probably play video games and Ping-Pong," I said, sidestepping the parents portion of his interrogation. I hadn't heard one way or the other, but I suspected a big fat no.Pops gave me the evil eye. "You're not going to get chewed, are you?"I...had no idea how to respond to that. "Chewed?""Don't pretend to misunderstand, young lady," Nana said. "Chewed. Cranked. Trashed.""You mean drunk?" Please, let them mean drunk. This discussion had already taken too many horrendous turns.They are SO cute!! Overall, I loved everything about this book and can't believe I have to wait until October 2013 to read Book 2 of The White Rabbit Chronicles, Through the Zombie Glass!! Here's to hoping the time flies by :D
Review by Evie-Bookish
16/06/2015
I'm on the fence with this book. Some aspects of it I genuinely enjoyed, some I didn't like at all, but overall I can say that it was a good book. Entertaining, quite unique, extremely well-written and addictive, it's a fresh new take on the zombie lore, but one that is more likely to appeal to fans of paranormal romance than a typical horror reader. It's probably best to begin by clarifying that Alice in Zombieland has very little to do with Lewis Carrol's classic. It's not a retelling, it's not even loosely based around the original tale. It's an entirely different story, and the only things these two books have in common is the similar title, the name of the lead heroine and the white rabbit theme. I must say that this alone was a little bit of a let down. I did expect to see a darker, more sinister and twisted version of Alice in Wonderland. I thought it would be quirky, thrilling, perhaps a little bit gore, and definitely totally bad-ass. Well, as it turns out, if you're looking for all that, you're better off picking up Zombies Don't Cry or ZOM-B (and the last one is super, super dark and disturbing!). I won't lie, I felt just a tiny little bit cheated. And the worst part is, if not for the faked connection to Alice in Wonderland, I would've probably enjoyed this book a lot more. The storyline wasn't bad at all, the pacing was good, the intrigue was very well thought-out and quite twisty, and the ending just totally blew me away. For the most part of the book I felt that Showalter was trying too hard to mold the story into something that would be -even only remotely - resembling Alice in Wonderland. And I thought that was unnecessary. I didn't care much for the rabbit-shaped cloud, I thought it was a forced and awkward addition that was only there to draw fake parallels between the two (totally unrelated) stories. One might argue that the connection between Alice in Zombieland and Alice in Wonderland is a more metaphorical one, and the car accident that claimed the lives of Ali's family members and threw her right in the middle of a zombie-infested world was similar to Alice's falling into the rabbit hole. Two girls, two bizarre and scary worlds. But then again, we could probably say the same thing about practically every other heroine from a YA paranormal story. Aren't they all launched on crazy adventures at one point or another? For me, the connection was just a little bit too weak and unconvincing. The last hundred pages is when the real action happens, when this story finally breaks away from the chains of being Alice in Wonderland-look-alike and morphs into something truly fabulous, heart-pounding and jaw-dropping. Showalter's zombies are not your usual flesh-devouring, brainless zombies that roam around the town aimlessly in hope of stumbling across something (someone?) to chew on. They're infected spirits, malevolent souls that - denied eternal rest - are drawn to the light of the living people that can see them. And not everyone can see them. More over, only a certain group of people can actually fight them. See, fighting the evil spirits is more complicated than killing "normal", made-of-flesh zombies. To kill a spirit, you have to enter the spirit realm, which means disconnecting your soul from the body. I thought that was an interesting concept, though I'm not entirely sure why we have to categorize these spirits as zombies. Maybe I'm just a classical munch-on-your-brain-and-slowly-mope-around zombie kind of gal, but Gena Showalter's zombies were just not zombie enough for me. They were too clean, too neat and too ghost-like. I would have been perfectly happy calling them malevolent spirits instead. That is not to say that I did not enjoy this book. I did, and quite a lot at that. Once I got past the things that bothered me - and thankfully there weren't many and they weren't big enough to prevent my enjoyment of the story - I actually had a lot of fun following Ali's adventures. As I mentioned before, I especially loved the last hundred-or-so pages of this book when all the juicy and exciting things happen, secrets are revealed and your heart starts pounding real fast. I thought the conclusion of this book was totally mind-blowing, and I really hope Gena Showalter will keep this awesomeness up in the next book! I liked most of the vibrant and interesting characters in this book, with the exception of Cole. Sadly, I wasn't a big fan of his childish and pushy personality. He refused to explain anything to Ali, even though he was well aware of the fact that her ignorance would put her in danger. He didn't want to get romantically involved with her (at least at the beginning), but he couldn't stand seeing her happy with another boy, either. He was possessive, short-tempered, ill-mannered, and controlling. Personally, I didn't find him hot at all. I do like bad-boys, but only if they possess some sort of redeeming qualities and a genuinely good personality that's just temporarily hidden underneath the mask of an overly-confident, tough boy. And while Cole might still show us his more tender and caring side in the next books, for now I decided to keep a healthy distance from him. The way he behaved in the first part of the book - constantly snapping at Ali, instructing her what to do, shutting her out but not letting her move on, and more often than not being plain rude and unpleasant - that just smelled too much like a certain sparkly vampire to me (or Travis from Beautiful Disaster, if you will). And I really hope he'll show us a different, more positive side of his character in the next instalment of the series. While I generally liked Ali, I certainly did not care for her instant attraction to Cole. I did not like the dynamics of their relationship, I thought they were unhealthy to say the least. Overall, though, I thought Ali was a very authentic and convincing character, and I definitely enjoyed following her adventures. The first-person narrative offered a really good insight into her thoughts and feelings, and allowed me to understand the motives behind her actions. She was quick-witted, quite clever, brave, determined and bold. She was not easily scared, either. In fact, most of the time she would adapt to new situations and surroundings with surprising ease. Kat, on the other hand, was just pure awesome. She burst into Ali's life like a tornado and, despite her many personal problems, was always cheerful, full of energy and confident. A little bit over-the-top at times, but in a good way. I loved her, I thought she made a great friend and a phenomenal supporting character. I'd go as far as to say that she was one of the most - if not the most - complex characters in this book. There's so much more to her than meets the eye! My favourite thing about this book? Gena Showalter's excellent writing style. Her prose is straightforward, direct, honest and dynamic. At times it's more lyrical, sensual and dreamy. At times it packs a strong punch. Her descriptions are vivid and precise, her insights surprisingly accurate. It's all too easy to lose yourself in the world she created, and it's practically impossible to put the book down mid-way. The pacing is perfect, the plot moves along smoothly. It's just.. an overall fantastic reading experience. I can honestly say that I enjoyed this book - some parts more than others, but overall I thought it was a great, furiously entertaining and thoroughly captivating read. Alice in Zombieland was my first book by Gena Showalter, but it certainly won't be the last one. I can't wait to read the next instalment of The White Rabbit Chronicles and see where Showalter will take us next!
Review by ahandfulofconfetti
16/06/2015
I am the first one to admit that zombies aren't usually my cup of tea. And yet, I was intrigued by this book, not only because it seemed to be a retelling of <em>Alice in Wonderland</em>, but also because I was drawn to the story of the main character. Alice is a girl who loses everything she loves and seems to come out stronger because of the tragedy. Plus, okay, I may or may not have a thing for bad boys, and Cole seems to be a perfect specimen. And then I started seeing very mixed reviews, some from people who loved this book, and others from those who ... really didn't. Their main complaint was that this didn't seem like a retelling at all, which seemed like a good thing for me to keep in mind as I finally - FINALLY - found the time to read this (I am sure my library will be happy to get it back! I've pretty much maxed out my renewals on it, oops). And those people are totally right, because as a retelling, this book fails spectacularly. But there is a plethora of other things that made this book a success for me personally, and in the end I can't be happier that I decided to go ahead and read it.For a book dealing with zombies - and let's not beat around the bush here, there are definitely plenty of zombies - this book had a surprisingly light-hearted and humorous feel to it. I couldn't help but love Alice, or rather, Ali, as she comes to be known. While she is clearly dealing with the aftermath of the accident that kills her family - and this was done in a very understated, beautiful way - she is still a girl who is full of spunk and sass. Combine her with the absolutely spectacular best friend that is Kat (even more spunk and sass!), and the rather smoldering, ridiculously hot "bad boy" Cole, and you have a cast that drew me in and kept me fully immersed in the story. Plus this book gets major bonus points for Ali's hilariously funny grandparents, who are trying so hard to speak to her in "her" language and make for some of the funniest lines in the entire book. In fact, for me, this book had a very similar feel to <em>Croak</em> by Gina Damico, which was one of my favorite reads of 2012. Both deal with very serious subject matter, but it's done in a way that you don't become overwhelmed by the darkness that exists in the background. But at the same time, if you want darkness without anything light (think <em>This Is Not A Test</em>), then this probably won't be the book for you, so your mileage may vary!I also very much appreciated the different sort of zombie mythology (for lack of a better word) used in this book. These zombies aren't the ones you're used to seeing, and the ways that they're dealt with are quite brutal. There is a lot of time spent on Ali training to fight them, and she doesn't exactly shy away from rather graphic descriptions of what Ali and the others face when they go up against them. These sections are definitely the darkest parts of the book, and the sections that true zombie fans will most likely enjoy the most. As someone who is not a zombie fan (see my statement in the first paragraph), I liked that, while these sections definitely played a part in the overall arch of the story, there were plenty of other things to keep me entertained and help lighten the book's atmosphere. I am talking specifically about the back-and-forth romance between Ali and Cole, which is full of snark, humor, a bad boy who really isn't bad and a girl who knows exactly how to annoy him, and some rather, um, HOT makeout scenes. Let me just say that the romance fan in me definitely loved those makeout scenes!My one piece of advice to anyone thinking about reading this book is to completely disregard the title (<em>Alice in Wonderland</em> this is not, except perhaps in some very cursory ways), and ditch your expectations at the door. I think I enjoyed this book precisely because I did just that, and I am definitely looking forward to book two. If you're okay with zombies, have an affinity for snarky main characters, and love swoon-worthy romance, then I'd definitely recommend this one!
Also in the The White Rabbit Chronicles series