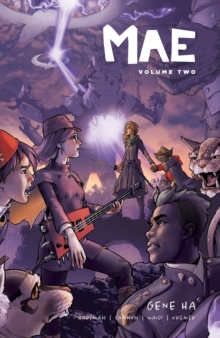 Mae Vol. 2
Paperback / softback
Description
Mae has followed her long-lost sister Abbie through agate and into another world: Cimrteren, a world full of dangerouscreatures, strange science, and warring nobles.
Their father has gone missing atthe hands of these malicious dukes, and Mae and Abbie must fight their way tothe heart of Ebenhrad to find their father.
Along their journey, they'll comeacross old friends, plus some new adversaries determined to stand in their way. In the second volume of the series, Mae and Abbie face some of theirbiggest challenges yet.
Even fantasy-locked sisters can have their differences. After a big blow-up fight, Mae sets out on her own, leaving Abbie behind.
WhenMae learns that navigating her own way through Cimrteren isn't as easy asshe thought, she calls on her old friend Dahlia for backup.
Together they beginto uncover sinister secrets and piece together a much darker history to theFortell family than they'd ever thought possible.
Information
Format: Paperback / softback
Pages: 176 pages
Publisher: Lion Forge, LLc, The
Publication Date: 08/10/2019
Category: Comics and Graphic Novels
ISBN: 9781549302800
Free Home Delivery
on all orders
Pick up orders
from local bookshops
Also by Gene Ha