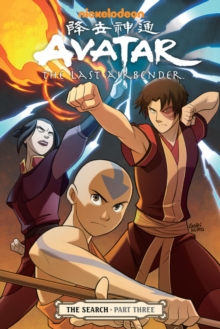 Avatar: The Last Airbender#the Search Part 3
Paperback
Information
Format: Paperback
Pages: 80 pages, 1 Illustrations, unspecified
Publisher: Dark Horse Comics
Publication Date: 12/11/2013
Category: Comics and Graphic Novels
ISBN: 9781616551841
Free Home Delivery
on all orders
Pick up orders
from local bookshops
Reviews
Showing 1 - 4 of 4 reviews.
Review by jovemako
16/06/2015
great ending for this story arc. I'm very curious of where they are going in the next arc.
Review by pussreboots
16/06/2015
Avatar: The Last Airbender: The Search, Part 3 by Gene Luen Yang concludes the three part story arc (part 1; part 2) involving the search for Zuko's mother and questions raised about her during the run of the original Avatar: The Last Airbender series.At the close of Part 2, the secret of the Forgetful Valley was revealed. And with it comes the reason why Ursa and her first boyfriend have never been found. But this knowledge comes with a price too... one that puts Aang at odds with the Spirit World and threatens to cause even more chaos in the lives of Zuko and Azula.The story in The Forgetful Valley reminds me of Baba Yaga, in that the spirit who lives there will do one favor at a time, and never more than one, just as Baba Yaga will only answer one question.But those favors have consequences which seem insignificant to the spirit but can be devastating for those helped. Aang, being a good egg, and of course the link between the two worlds, realizes he needs to know the Spirit's story.But what really broke my heart was Zuko doing his best to come to terms with what he has learned at the end of his long search. Except among the truths he's learned, there's also one BIG lie. And that's something he and his mother will sort out later.It was a wonderful trilogy and well worth the time to re-read before writing these reviews. I have already pre-ordered parts 1 through 3 of The Rift.
Review by WiseYoungFools
16/06/2015
This was the answer watchers of "Avatar: The Last Airbender" have been waiting for. What happened to Zuko's mother? We learned new things about Ursa, Zuko, and got some lore about a new spirit. While this was an answer, parts of this volume seemed like filler. I can't say what, as that is a spoiler, but it was just "Who cares?"I also felt like some parts of the story reneged on itself in this one volume. I understand they only had 3 volumes to work with to flesh things out, which is what makes the random filler so apparent.
Review by owlbeyourfriend
16/06/2015
When I read Part 2, I was interested to see how the brother and sister in the forest were involved in the larger plot. And sadly, there were only there as a red herring of sorts: to provide Aang to do some good, and to have there be a choice of who received the Face Spirit's wish.<br/><br/>And, what, Ursa's no longer Noriko? Her daughter will just have to get used to a new face for her mother? I'm just unsatisfied with this whole series offshoot.