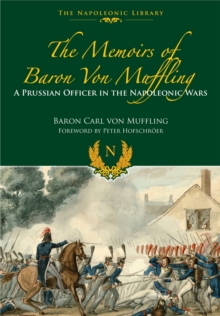 Memoirs of Baron von Muffling
Hardback
Description
Muffling's memoirs provide an exceptional first-hand account of the Napoleonic Wars by one of Prussia's finest general staff officers.
Muffling is best known in the English-speaking world as General Blucher's liaison officer in Wellington's headquarters during the Waterloo campaign, and as such he was one of the architects of the final victory over Napoleon.
However, his military career involved much more than this, proving him a brilliant general staff officer, although not always popular with his contemporaries.
He made a major contribution to the development of the Prussian General Staff - the first to exist in the modern sense - and was also fascinated by military topography and cartography. Muffling covers everything from his early posts in 1805 and his account of the battle of Jena in 1806 through to the Waterloo campaign in 1815 and his diplomatic role at the Congress of Aix-la-Chappelle at the end of the wars.
His memoirs are a valuable primary source, as they are one of the few accounts written by a senior Prussian officer in the Napoleonic Wars to be translated into English.Peter Hofschroer's introduction to this new edition gives comprehensive biographical details for Muffling and examines the accuracy of certain parts of the memoirs. Muffling has attracted adverse criticism from historians at times; this new edition of his work allows the current generation of readers to make a balanced judgement.
Information
Format: Hardback
Pages: 560 pages, Illustrated
Publisher: Pen & Sword Books Ltd
Publication Date: 20/05/2015
Category: Memoirs
ISBN: 9781848328273
Free Home Delivery
on all orders
Pick up orders
from local bookshops