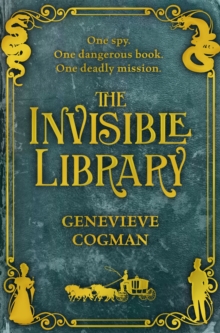 The Invisible Library
Paperback
Description
The first in a gripping, adventurous series, The Invisible Library is the astounding debut from Genevieve Cogman. Irene must be at the top of her game or she'll be off the case - permanently. . . Irene is a professional spy for the mysterious Library, which harvests fiction from different realities. And along with her enigmatic assistant Kai, she's posted to an alternative London.
Their mission - to retrieve a dangerous book. But when they arrive, it's already been stolen. London's underground factions seem prepared to fight to the very death to find her book. Adding to the jeopardy, this world is chaos-infested - the laws of nature bent to allow supernatural creatures and unpredictable magic.
Irene's new assistant is also hiding secrets of his own. Soon, she's up to her eyebrows in a heady mix of danger, clues and secret societies.
Yet failure is not an option - the nature of reality itself is at stake. The Invisible Library is followed by the second title in The Invisible Library series, The Masked City.
Information
Format: Paperback
Pages: 336 pages
Publisher: Pan Macmillan
Publication Date: 15/01/2015
Category: Fantasy
ISBN: 9781447256236
Free Home Delivery
on all orders
Pick up orders
from local bookshops
Reviews
Showing 1 - 4 of 4 reviews.
Review by passion4reading
16/06/2015
Irene is a junior Librarian, tasked with acquiring books for the eponymous, interdimensional Library, by illegal means if necessary. Having just returned from a mission that didn't exactly go to plan, she's looking forward to some well-deserved time out, putting up her feet with a good book, but her superiors have other ideas. She's immediately sent back to an alternate universe to retrieve a version of Grimm's fairy tales, and not only is that world chaos-infested, she's also been assigned a trainee on his first mission abroad, who's keeping his own secrets. As soon as they arrive, they learn that the previous owner has been murdered (well, he was already dead – a vampire) and the book been stolen. What follows is a breathtaking chase through an alternate Victorian London which involves steam punk elements, werewolves, an enigmatic detective and the Fae, plus much more, which it wouldn't be fair to reveal as the surprise is half the fun of reading.This is an astonishingly accomplished debut by Genevieve Cogman, the first in a new series, which promises much for the subsequent volumes. The groundwork is established by way of dialogue between the principal characters, so that there aren't any long-winded explanations by the author. The fact that the alternate world on which most of the action takes place is chaos-infested gives the author basically a free hand to throw wildly different adversaries and scenarios at our two heroes. The resulting tale is thus never boring, and is written with a knowing wink and dry wit, with very likeable main characters. I absolutely loved the underlying idea and the world-building and can't wait to read how the story progresses, though I felt I had to deduct half a star for just one too many damsel-in-distress situations; Irene is an intelligent and resourceful young woman, but had to be rescued a little too often by her young assistant Kai, but that's a minor quibble. In short, I feel certain that this is exactly the sort of book that Irene would love to read herself: four and a half stars.(This review was written as part of Amazon's Vine programme.)
Review by AdonisGuilfoyle
16/06/2015
Meh. If you've read one of these pseudo-Victorian/steampunk/fantasy novels, you've read 'em all. Nothing original to this one, about a 'librarian' sent to retrieve a book from an alternate reality (naturally an alternate version of Victorian London, so that the heroine speaks formally - sometimes - and gets to wear long skirts, which seems to be a fetish with this trope). The little quips about book lovers and correct grammar amused me, but the humour was offset by the sheer amount of clichés present. On a scale of <i>Jonathan Strange and Mr Norrell</i> and Gail Carriger's <i>Soulless</i>, this attempt ranks low, unfortunately. Not even the bargain basement price won me over.
Review by Pantalaimon01
10/11/2015
I really enjoyed this book, so much so that I read it in a couple of days. An interesting and unusual story, with great central characters - two are agents working for the mysterious Library - an organization that collects books from alternate Earths. Some of these are orderly, others more dangerous as they are affected by the forces of chaos. The two agents get more than they bargained for, when they discover that many other groups are after a book they've been sent to obtain.
Review by wyvernfriend
27/08/2015
Irene works for the Library, where they harvest fiction from different realities. She was born into the Library and really wants to succeed. She's sent to a Steampunk alternative London with vampires, werewolves and the Fae, to retrieve a book. However when they arrive it's stolen and they have to investigate the theft to get the book. Her assistant is a new student who is on his first mission, but he has secrets he's hiding from her.There were moments that didn't quite work and felt a bit off but overall this was an intersesting read and I want to more about the world of the Library and the secrets it holds. One to watch.
Also in the The Invisible Library series series | View all