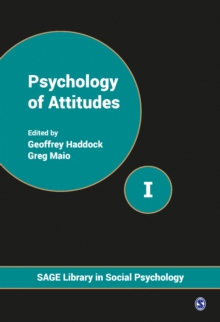 Psychology of Attitudes
Hardback
Description
'The attitude concept is at the core of social psychology.
This innovative publication provides the most comprehensive collection ever assembled of classic and contemporary papers on the psychology of attitudes and attitude change.
The editors have done a superb job of providing a thorough overview of this exciting field' - Mark Zanna, University of WaterlooMore than 75 years ago, Gordon Allport stated that the attitude construct is the heart of social psychology. Allport's sentiment remains true today - people's evaluations of themselves, other individuals, groups and social issues are the core of the discipline.
This four-volume set brings together important papers on the psychology of attitudes to serve as the most fully comprehensive collection on the attitude concept. Volume One: Attitude, Content, Structure, Function and MeasurementVolume Two: Implications for Information-Processing and BehaviourVolume Three: Cognitive, Affective and Behavioural Processes that Shape AttitudesVolume Four: Roles of Brain, Body and Society
Free Home Delivery
on all orders
Pick up orders
from local bookshops