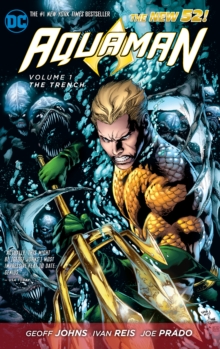 Aquaman Volume 1: The Trench TP (The New 52)
Paperback
Description
A #1 New York Times Best Seller! The King of the Seven Seas, Aquaman,returns to his very own ongoing series for the first time in years at the handsof DC Entertainment Chief Creative Office Geoff Johns, who reteams with GreenLantern collaborator, artist Ivan Reis!
Between proving himself to a world thatsees him as a joke, Aquaman and his bride, Mera, face off against a long-buriedterror from the depths of the ocean!
Information
Format: Paperback
Pages: 144 pages
Publisher: DC Comics
Publication Date: 21/05/2013
Category: Superheroes
ISBN: 9781401237103
Free Home Delivery
on all orders
Pick up orders
from local bookshops
Reviews
Showing 1 - 2 of 2 reviews.
Review by swampygirl
16/06/2015
Overall this was a real 2.5 stars experience. Trying to be optimistic though, so 3 stars it is. My favorite thing about this graphic novel was actually the art. It was definitely digital (not something I'm a huge fan of usually) but there was just the right level of detail and what I usually find a distasteful plastic sheen, really felt right considering the aquatic nature of the comic. The plot came in at a definite second. Not to say it was all bad, the way it (hopefully) sets up future volumes showed a level of complexity I wasn't necessarily expecting. Since it's part of the new 52, I was kind of expecting it to spoon feed me Aquaman's origin story so I'd immediately run out and buy a million comic books. While I certainly know more about Aquaman now then when I started (at zero) the volume leaves off with far more questions then answers. Which could work out really well, or really badly. The dialog and the characters were the least inspiring aspect of this volume for me. Not horrible, just kind of flat and uninspiring. There mostly just superhero cutouts with some seaweed draped across their skin tight outfits. They were equally skin tight though, and there was an equal amount of male and female skin going on, so while Mera is one dimensional character with boobs, I'll remain un-offended. It doesn't appear like she'll need to be rescued anytime soon anyway.
Review by nmhale
16/06/2015
Aquaman is not as respected as some of his better known peers in the DC Universe, and this story cheekily explores that as a side story in the plot about carnivorous sea creatures that emerge from a deep trench in the ocean and begin to devour people on the coast. Aquaman comes on the scene with a dramatic leap. He stops men who are fleeing from the police, a typical superhero move. Instead of adoring masses, though, he is greeted with disbelief and snickers. The police officers are embarrassed that they were helped by Aquaman, and even wonder why he was there, since it's not the ocean. Aquaman is stoic, and heads to a cafe for a meal, but when a reporter is callous enough to ask him how it feels to be a superhero joke, Aquaman storms out. Despite this condescending treatment, Aquaman quickly comes to the rescue when the trench creatures attack a coastal town. He and his girl, Mera, follow in the wake of the creatures that took nearly half the town with them as future snacks, in the hopes of saving the victims. They are able to trace the creatures back to the trench, where they discover an ancient Atlantean vessel submerged and forming part of the home for these trench creatures and their queen. Aquaman and Mera engage in a final furious confrontation, and save the kidnapped people, but at a great cost. I really enjoyed this comic. The main plot was entertaining, with suitably spooky enemies and plenty of action, in and out of the water. The story also raised some nuanced moral issues that rose above a clear cut definition of what is good and evil. The trench creatures aren't necessarily malicious, just hungry. They need more food to feed their children, who are growing up deformed due to a lack of nutrition. The only way to stop them seems to be to kill them all, but is destroying an entire species justified, even if it is the only way for humanity to survive? Aquaman is full of doubts, as he senses their sentience, while Mera voices the opposite opinion, that they are mindless vicious creatures that deserve destruction. The moral questions embedded in the action brought greater depth and tension to the story. Humor and sweet romantic moments balance out the tone of the book, keeping it from being too heavy. Especially fun is the irony in how people perceive Aquaman as a joke, whereas the man is quite serious, burdened with a sad past few know, and willing to risk his life for others. The writers create an impressive warrior, acknowledging the past impressions of Aquaman as a silly second-rate hero and revealing that the people who think this are the foolish ones, not Aquaman. The main plot is resolved, but many questions remain unanswered. I look forward to reading more in this series.