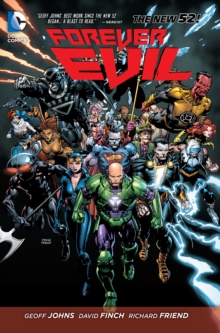 Forever Evil HC (The New 52)
Hardback
Description
The Justice League is DEAD! And the villains shall INHERIT the Earth! In aflash of light, the world's most powerful heroes vanish as the Crime Syndicatearrives from Earth-3!
As this evil version of the Justice League takes over theDC Universe, no one stands in the way of them and complete domination ... no oneexcept for Lex Luthor! By New York Times #1 best-selling creators GeoffJohns and David Finch, Forever Evil is the first universe-wide crossoverof The New 52.
This hardcover graphic novel collects the Forever Evil#1-7.
Information
Format: Hardback
Pages: 208 pages
Publisher: DC Comics
Publication Date: 09/09/2014
Category: Superheroes
ISBN: 9781401248918
Free Home Delivery
on all orders
Pick up orders
from local bookshops
Reviews
Showing 1 - 3 of 3 reviews.
Review by DanieXJ
16/06/2015
That was intense.The world hcas been invaded by The Crime Syndicate from a parallel Earth. Owlman, Superwoman, Power Ring, Deathstorm, Johnny Quick, Atomica and of course, Ultraman. They break open all the super prisons and let the bad guys go crazy across the country in their names (and I assume world).Lex Luthor finds himself in the weird position of trying to save the world when the Justice League gets put out of play by the Crime Syndicate. He gathers a team of badish guys like Captain COld, Sinestro and Black Adam and he retrieves his creation, Bizzaro, as well to help them. (That was a very, very, very cool story and I hope that we see this Bizzaro again at some point). And after Lex and his team meet up with Batman and Catwoman they take on the Crime Syndicate.We also get to see Alexander Luthor from the same parallel universe as the Syndicate, and I was surprised, very surprised by where they went with his story in this reimagining.It was a cool TPB and storyline. I've always liked it when the Crime Syndicate tangled with the Justice League and this one didn't disappoint either.I got this advanced galley through Netgalley on behalf of DC Entertainment
Review by Velmeran
27/08/2015
Very cool alternate Universe crossover! I have always been a fan of the quasi-bad guys and seeing a twist on good guys making them the bad guys and bad buys becoming the good guys makes for a great story. It's always good to know that your Universe has the best bad guys as well! Go figure.Plus I always was a fan of Lex...I give this graphic novel a B.
Review by rivkat
16/06/2015
Free review copy. The Crime Syndicate (an evil version of the Big Five of the JLA) comes to Earth and takes over; for most of the book, the second stringers plus Lex Luthor and a few assorted villains have to fight them. It's hard to imagine a Mirrorverse crossover that doesn't suffer by way of comparison to A Better World, which for my money is a perfect story. However, I give points for Batman's secret boxes for when he needs to defeat the rest of the Big Guns: the one for WW is empty, 'cause he's got nothing. This makes up for an annoying aspect of the Superwoman evil analogue. Also: super smart and bad-ass Lex Luthor, which is never a bad thing; this Luthor is much more central and much more complicated than Luthor in A Better World.