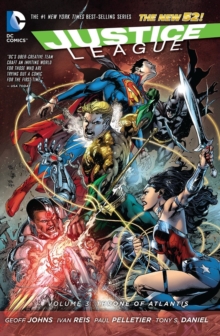 Justice League Volume 3: Throne of Atlantis HC (The New 52)
Hardback
Description
When Atlantis is struck by a U.S. Naval missile gone awry, Atlantis -led by Aquaman's brother Ocean Master - attacks the East Coast of theUnited States flooding its major cities such as Boston, Metropolis, Gotham City,and several others.
The Justice League comes together to help Aquaman turn backthe tide, but they soon learn that they are woefully overmatched by theAtlantean Army, and must find a way to save the world from total annihilation. Collects Justice League issues #13-17 and Aquaman#14-16.
Information
Format: Hardback
Pages: 192 pages
Publisher: DC Comics
Publication Date: 01/10/2013
Category: Superheroes
ISBN: 9781401242404
Free Home Delivery
on all orders
Pick up orders
from local bookshops
Reviews
Showing 1 - 2 of 2 reviews.
Review by DanieXJ
16/06/2015
Did we really have to see the first page twice, once in this volume and once in the previous volume? Luckily for my opinion of the book, there wasn't a whole lot of Superman/Wonder Woman in it, I was very relieved about that (since I detest the storyline on so many levels).There were two stories in this TPB. The first was the Justice League giving a helping hand to Wonder Woman, who's going against The Cheetah, aka Barbara Minerva, and there were some nice twists and turns at the end of that story. They also get to go find a lost tribe which is always fun. (Of course, it is bigger than just Barbara Minerva and the Cheetah, because, isn't it always).Then, there's a second, and the main story of the TPB and that is Atlantis, under the command of Aquaman's brother Orm, attacking the US (mostly Boston, but also Metropolis and Gotham City, and, that brings me to a slight aside, seriously, does someone on the writing/editorial team have a beef against Boston, there are plenty of big cities on the East Coast that they could have gone after, oh well). Anyway, he attacks after a couple of missiles go off course and seriously hurt some parts of the sea. Aquaman is, of course, trying to be on both sides and save everyone's lives. And when a third party gets involved in the war between Humans and the Atlanteans everything gets even more complicated.There was a lot to like in this TPB. I liked a good many of the 'reinforcements' that got to appear in this book. Black Lightning, Zatanna, Hawkman, I haven't quite caught up on all the New 52 titles as of the reading of this, so seeing them here was cool.I also really liked the Mera/Arthur relationship as shown through these pages. Now, that's what you can call a 'super' comic book relationship. Awesome, but with a twinge of longing and complication. The end with Steve Trevor and Ollie was interesting too. And makes me eager for the next volume of the Justice League's story.I got this advanced galley through Netgalley on behalf of DC Entertainment.
Review by ElizaJane
16/06/2015
This series just keeps getting better and better. Volume 3 collects issues 13-17, along with two issues if Aquaman, 15, 16. The volume starts off awesomely with a fight between The Cheetah and Wonder Woman, then a whole story gets played out as the League joins WW in capturing Cheetah to stop her mayhem while at the same time they learn the truth behind Cheetah's background. Great beginning! Then we get to the main story where Gotham is attacked by huge tidal waves and floods. Some guy from Atlantis shows up looking for "King Arthur" and tells him Orm is attacking. Without going into further details a whole battle ensues between the League and Orm, Arthur and Orm and even to a degree Aquaman and the League. The absolute coolest part though is that half-way through when things are just too much for JL, Cyborg calls in the reinforcements! A secret group of superheroes who were on a list to be considered for filling in the available spot. But they all come together and join the fight! So we have 10 unexpected superheroes who show up. Loved this!!! Also very fine ending that has the Trench guys from Aquaman Vol. 1 showing up, we just knew they would show up again didn't we? and a final showdown between Orm and Arthur for kingship of Atlantis. Finishing off with a curious epilogue which appears to show three new groups in the formation: Steve Trevor's new group (JLA?), JL opening up membership, and a league of villains? Cannot wait for the next issue!!! This is fantastic stuff. BTW, the art is top notch as well.