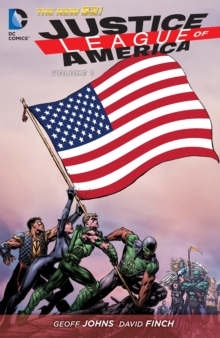 Justice League of America Volume 1: World's Most Dangerous HC (The New 52)
Hardback
Description
Following the events of Throne of Atlantis, it is deemed neccessaryto create a new Justice League.
This new superhero team is under the command ofCol. Steve Trevor, of the United States Military's A.R.G.U.S. division (AdvancedResearch Group Uniting Superhumans).
Signing up for duty with this newincarnation of the JLA are Catwoman, Katanna, Green Lantern, Green Arrow,Martian Manhunter, Hawkman, Star Girl, and the long-awaited return of 80ssuperhero, Vibe.Collects issues #1-7.
Information
Format: Hardback
Pages: 224 pages
Publisher: DC Comics
Publication Date: 01/11/2013
Category: Superheroes
ISBN: 9781401242367
Free Home Delivery
on all orders
Pick up orders
from local bookshops
Reviews
Showing 1 - 5 of 5 reviews.
Review by DanieXJ
16/06/2015
Since this was a Trade Paperback it had a couple of different storylines in it. It started with the JLA being formed, and nearly right after that they get their first test, going out and after a Secret Society who's in a house that moves. I liked the characters in the new JLA. Unsurprisingly there's Green Arrow, Katanna, Martian Manhunter, Hawkman, a Green Lantern, although this time it's Simon Baz, my new favorite (barely edged out Stewart) Green Lantern. It has Stargirl in it (sorta, I liked how they twisted her story) and a hero called Vibe who's different, and can supposedly mess with energy and so sometimes other superheroes powers. And then there's Catwoman on the team. For the most part I liked Catwoman's story in this, I did have some problems with one of the twists in the story (the twist that was talked about a whole ton of a lot when it came out in issue form), but other than that it wasn't a horrible story that she got and it had a little bit of subtly to it (although, that subtly wasn't her uniform by any stretch of the imagination).They as a team really do seem to be the Worlds' Most Dangerous Heroes. And, honestly, I thought that maybe the title should have been named A.R.G.U.S. instead of Justice League of America because we got to see more of ARGUS, Amada Waller and Steve Trevor (honestly I'm sorta sick of that guy, but, I've never liked any of the incarnations of him).The only problem that I had with the TPB was when we were dumped into the Trinity War storyline. I really hadnt read a ton of the rest of the storyline before reading this TPB, and so I was a bit lost for a while. I guess that's one of the bad parts of reading the TPBs instead of the issues as they come out.Still, as shown by the four stars, I really had more likes than dislikes regarding this TPB. I really really liked the Vibe/Green Lantern (Simon) interaction during the stories. It was very Hal and Barry and that's not a bad thing. I also liked the tweaks that they did to the Martian Manhunter's story. It wasn't a big story in the TPB, but it was one of my favorites.All in all I liked almost everything about this book. I even liked the art and I guess I'll see what happens in Volume 2. (As well as pick up the other parts of the Trinity War so I can figure out exactly what was happening).I got this advanced galley through Netgalley on behalf of DC Entertainment.
Review by ptdilloway
16/06/2015
By the end not much has really been accomplished. The new Green Lantern was barely in it at all.
Review by ElizaJane
16/06/2015
Pounding heart. Palpitations. Justice League, what is happening? Where is Booster? How many Justice Leagues will there be? Will even one be left standing? My mind is racing after reading this volume and I. Can't. Wait. For. Trinity War. I pre-ordered it ages ago!! There are so many superheroes involved in this book that it is just too many to even remember who is supposed to be part of the new JLA. The first line-up gets changed once and at the end we don't know where they stand. Just like all the other JLs at this point! Shazam is even here. He was on the reserve list from Justice League, Vol. 3 and he's still hanging around and wants to go home but is told he'd better stay around until things get sorted out. The scenes with various JL's going up against each other are truly epic! And now we have a Secret Society of super villains. Catwoman which team is she on? Amanda Waller where does her loyalty lie? The answers will psyche you out!! OK, now just some rambling. Lots of new people here for me. I love Vibe!! What can I say ... I thought he'd be lame but I love him. We get to know a lot about Green Arrow actually, even though this volume is not much about the characters as it's so intense on the action. I haven't liked his appearances so far in the JL books but I'm willing to look into him now and may try out his series. Martian Manhunter is given quite a bit of character development too and I think that's because he's being seen as the "leader" of JLA. I loved the slightly different twist on his background story than pre-52 and I've always liked him as a character. None of the other new superheroes was given enough exposure to get to know them yet so am reserving judgement. Yet I can say I love, love, love the Leaguers and their universe!!
Review by LaneLiterati
16/06/2015
Okay, New 52 JLA... Now, not being a huge DC guy before the beginning of New 52, this book probably won't affect me the same as a long time DC reader. I divide my review into 2 parts : Origins and Trinity War tie in.In the "Origins" part, we see the team being gathered together by Director Waller and Colonel Trevor (who seem to have their non-superpowered hands in WAY TOO much of DC i.e. all 3 Justice League books, Wonder Woman, Suicide Squad, etc) as a team to be a fail-safe against the Justice League, should they go rogue at anytime. The members are picked based on their "opposing powers" to the members of JL, but they all seem very untrained. As a reader of Green Lantern and Catwoman, I am familiar with both of them quite well, but even Simon Baz seems diminished here. The others I have heard of (and now want to read Savage Hawkman to learn more of him) but again, very much an origin story here, having them get together and then do a fight together. Standard comic stuff. We see the origin of a new character, Dr. Light, at the end of JLA #5. Then..... (SPOILERS AHEAD)WTF? With JLA #6 the first page says that Dr. Light is dead. WHAT? OH wait.... this is Trinity War #2 also? Ugh..... This is the reason why I gave the book 3 stars. Comic crossovers are amazing, but for people that pick and choose their titles rather than read the whole universe of books, including Trinity War #2 and #4 here is a bit off-putting. Luckily, I have an ARC of Justice League Vol. 4 from Netgalley. Allow me to go to that..... (see review for that)Ultimately, I will continue with JLA, though I expect the Trinity War and Forever Evil events will alter the team structure and dynamic, possibly making it better than it originally started off to be.
Review by LaneLiterati
16/06/2015
I feel like this volume required some pre-reading because a lot of what was going on was not familiar to me. This completely defeats the purpose of New 52 in my opinion, so this is definitely not one of the best titles to be reading out of the DC reboot event.