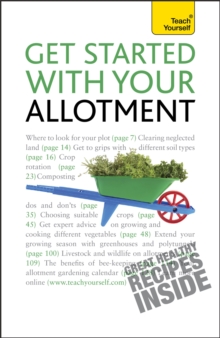 Get Started with Your Allotment
Paperback / softback
Description
Is this the right book for me?- Are you keen to get an allotment, but don't know where to start?- Would you like help to successfully grow your own produce?- Are you thinking about keeping livestock on your allotment?Get Started with Your Allotment is written by the UK's leading Allotment Society and designed specifically for all those new to allotments.
It will take you step-by-step through the joys of allotment gardening, right from the very first stages of finding an allotment through to keeping livestock.
It is designed for both beginners and those with some experience, and has plenty of information for those who wish to involve their children and family members in their new pursuit.
With a complete guide to the tools needed, the ideal crops to grow, the soil conditions, troubleshooting and plenty of legal advice, it is the most complete guide available from the country's most experienced and trusted source of allotment wisdom. Get Started with your Allotment includes:Chapter 1: What is an allotment?Why have an allotment?How much produce can be grown on a plot?What costs are involved in running an allotment plot?How much time is required to manage a plot?Chapter 2: Obtaining plotWho provides allotment plotsCostsAllotment tenanciesChapter 3: Getting startedClearing a neglected plotCheck your soil typeOrganic and inorganic matterPlanning your plotWorking the soilChapter 4: Tools, techniques and resourcesToolsComposingBonfiresWaterChapter 5: What to growWhich cropsSeedsVegetable varietiesHerbsFruit varietiesChapter 6: Allotment buildings and other structureShedsGreenhouses and polytunnels Cold frames and clochesPropagating framesFruit cagesSite and plot securityChapter 7: Children and allotmentsGetting children involvedChapter 8: Livestock and wildlife on allotmentsLivestockWildlifeOrganic or inorganic?Chapter 9: Allotment and gardening associationsThe benefits of forming an allotment associationThe essentials of forming an associationThe committeeThe first formal meetingJoint activitiesSelf-managementChapter 10: The allotment gardening yearChapter 11: Recipes Learn effortlessly with an easy-to-read page design and new added features:- Personal insights, tips, and summaries throughout the book- Extension articles online- Every book gives you one, five and ten-minute bites of learning to get you started
Information
Format: Paperback / softback
Pages: 192 pages, 50 line drawings
Publisher: John Murray Press
Publication Date: 30/07/2010
Category: Allotments
ISBN: 9781444107388
Free Home Delivery
on all orders
Pick up orders
from local bookshops
Also in the Teach Yourself - General series | View all