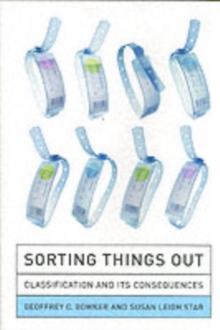 Sorting Things Out : Classification and Its Consequences
Paperback
Description
A revealing and surprising look at how classification systems can shape both worldviews and social interactions.What do a seventeenth-century mortality table (whose causes of death include "fainted in a bath," "frighted," and "itch"); the identification of South Africans during apartheid as European, Asian, colored, or black; and the separation of machine- from hand-washables have in common?
All are examples of classification -- the scaffolding of information infrastructures.In Sorting Things Out, Geoffrey C.
Bowker and Susan Leigh Star explore the role of categories and standards in shaping the modern world.
In a clear and lively style, they investigate a variety of classification systems, including the International Classification of Diseases, the Nursing Interventions Classification, race classification under apartheid in South Africa, and the classification of viruses and of tuberculosis.The authors emphasize the role of invisibility in the process by which classification orders human interaction.
They examine how categories are made and kept invisible, and how people can change this invisibility when necessary.
They also explore systems of classification as part of the built information environment.
Much as an urban historian would review highway permits and zoning decisions to tell a city's story, the authors review archives of classification design to understand how decisions have been made. Sorting Things Out has a moral agenda, for each standard and category valorizes some point of view and silences another.
Standards and classifications produce advantage or suffering.
Jobs are made and lost; some regions benefit at the expense of others.
How these choices are made and how we think about that process are at the moral and political core of this work.
The book is an important empirical source for understanding the building of information infrastructures.
Free Home Delivery
on all orders
Pick up orders
from local bookshops
Reviews
Showing 1 - 3 of 3 reviews.
Review by Pivo1
16/06/2015
This book tackles classification theory head on. Though dry and academic, the authors are able to liven up the subject with many examples. They successfully demonstrate the potential political and ethical consequences categories can have.
Review by jorgearanda
16/06/2015
After a spectacular start with a discussion of infrastructure (and particularly classification as infrastructure), its pervasiveness, and its power to shape our lives and perceptions, this book switches tack and moves with little rigor between anecdotes, exceptions, and colorful but superficial terms. The end result is a mish-mash of observations that do little to advance the theoretical arguments further; I had to remind myself of the clarity and power of the first few chapters to realize there is much valuable content in the book.
Review by Placebogirl
16/06/2015
This book intertwines a history of various classification schemes, taxonomies, and catalogues with an explanation of the human desire to classify and organise. It's a great read, and a fascinating subject.
Also by Geoffrey C. Bowker
Also in the Inside Technology series | View all