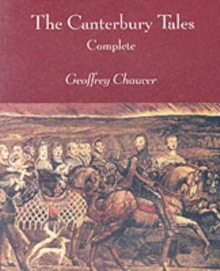 The Canterbury Tales
Paperback
Description
Based on the definitive Riverside Chaucer, this edition of The Canterbury Tales contains the complete text of all 24 Tales, thoroughly updated scholarship from the past 20 years, and extensive editorial support.
This volume is ideal for instructors who want to assign only the Tales and have no need for the complete Chaucer.
An overview briefly outlines the basic plot and main idea of each Tale, while a section on language and versification helps students with pronunciation.
Explanatory notes provide information on sources, problematic passages, and critical interpretations.
Additional pedagogy includes a glossary, a section on Chaucer's life, an index, a general bibliography, and a list of abbreviations.
Information
Format: Paperback
Pages: 624 pages
Publisher: Cengage Learning, Inc
Publication Date: 13/04/2000
Category: Poetry by individual poets
ISBN: 9780395978238
Other Formats
Paperback from £2.50
CD-Audio from £11.39
Hardback from £6.75
Free Home Delivery
on all orders
Pick up orders
from local bookshops
Reviews
Showing 1 - 3 of 3 reviews.
Review by Nouche
16/06/2015
This edition of the Canterbury Tales, edited by Larry Benson, is superb. It is based on the Riverside Chaucer, Third Edition (also edited by Benson) and is as authoritative as you can get. It's greatest attribute is the presentation of a highly readable text that will be appreciated by scholars and lovers of Chaucer of all levels. It's beautifully glossed, but in an unobtrusive manner that allows the language to sing off the page without any unneccesary interruptions; the copious (and useful) vocab and grammar notes are clearly marked by line and placed below the body text, thus one can read (aloud preferably) at one's own pace without being constantly interrupted. The placement and economy of the notes also makes for a clear presentation and a great reading text that allows individual readers to approach the Tales at his or her own pace. Highly informative and entertaining essays on Chaucer's life, the history and conext in which he lived and wrote and on his language and versification introduce the volume and provide an excellent jumping off point into the Tales. The latter essay is a decent - albeit brief - introduction to reading and pronounciation of Chaucer's Middle English, but it is far from comprehensive, covering primarily the most basic elements thereof while paying scant attention to the nuances of inflection and grammar. Nevertheless, that is where this edition acheives - it presents a highly readable and accesible version of Chaucer's masterpiece and allows readers of all levels to approach the poem(s) on their own terms, unencumbered by an intrusive or burdensome scholarly apparatus. In other words, one can approach the Tales with just enough context, historically and linguistically, to engage with it in a manner as close to possible as a fluent reader of Middle English would have. And the perfect balance between inspiring the novice reader to venture forth independently and the superior guidance that is readily available with just a quick glance toward the bottom of the page, will undoubtadly improve one's reading and comprehension of Middle English. Scholars of all levels will appreciate and enjoy this edition. Larry Benson (still teaching at Harvard, by the way) is one of the great Chaucerians and has given us one of the best editions of Chaucer available - one that is equally beneficial and interesting to both the student and the layman. The point is, you can't outgrow this one. If anything, you can grow into it. What more could one want?
Review by DanaJean
16/06/2015
The Canterbury Tales is one of those classics that was on my TBR list. I chose to listen to this on audio and was very glad I did. Narrators are a reader's best friend when it comes to more difficult reads, allowing the listener to just sit back and absorb the work. And in between the actual traveler's tales, there would be a brief summary of what exactly was going on. I appreciated this very much because, at times, I wondered if I was listening to the same writer--one story would be fluid and coherent and easy to understand--and then we came to tales that were confusing and tortured in their language. Audio recommended. Overall, interesting.
Review by est-lm
16/06/2015
I love the Canterbury Tales. I took an entire class dedicated to the study of this beautiful piece of work. What I love about this collection of tales is that there is something for everyone; tons of dirty humor, some love stories, tragic stories, morality stories, animal fables, a satire on chivalry tales, poetry... <br/><br/>There are over 20 individual stories, some that were unfortunately left unfinished. Each tale is told by a different person in this group of pilgrims making their way to Canterbury Cathedral. They are all from different walks of life; there is a Knight, a squire, a scholar, a prioress, a priest, a pardoner, etc. They decide to tell stories in order to pass the time as they travel. <br/><br/>For those who are not used to Middle English is that you can read one at a time and/or skip around (after you read the General Prologue), and though you may miss a few things about the actual pilgrimage (some of the story tellers argue and whatnot), the tales themselves are still very enjoyable. <br/><br/>I suggest finding a copy that has both the original spelling and the Middle English spelling in order to enjoy the full impact of the language even if you are not a Middle English expert. <br/><br/>It is a delightful collection of tales! I wish more people would read and enjoy them!