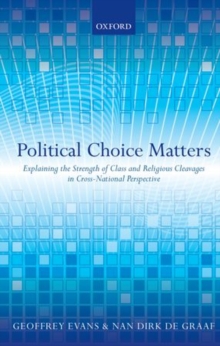 Political Choice Matters : Explaining the Strength of Class and Religious Cleavages in Cross-National Perspective
Hardback
Description
Political Choice Matters investigates the extent to which class and religion influence party choice in contemporary democracies.
Rather than the commonly-assumed process in which a weakening of social boundaries leads to declining social divisions in political preferences, this book's primary message is that the supply of choices by parties influences the extent of such divisions: hence, political choice matters.
Combining overtime, cross-national data,and multi-level research designs the authors show how policy and programmatic positions adopted by parties provide voters with choice sets that accentuate or diminish the strength of political cleavages.
The book gives central place to the positions of political parties on left-right, economicallyredistributive and morally conservative versus social liberal dimensions.
Evidence on these positions is obtained primarily from the Comparative Manifesto Project, with a chapter dedicated to elaborating and validating the various implementations of this uniquely valuable source of evidence on party positions.
The primary empirical focus includes case studies of 11 Western, Southern, and Central European societies as well as 'anglo-democracies' including Britain, USA, Canada, and Australia. These detailed analyses of election studies ranging in some cases from the post-war period until the early part of the 21st century are augmented by a pooled cross-national and overtime analysis of 15 Western democracies using a unique, combined dataset of 188 national surveys.
The authors show thatalthough there has been some overtime decline in the strength of association between social class and party choice, this is far smaller than the amount of change in the relationship occurring as a result of party movements on questions of inequality and redistribution.
The strength of the religiosity cleavage is also influenced by changes in party positions on moral issues - changes that can be understood as a strategic response to a process of secularization that has weakened the electoralviability of parties deriving support from appeals to religious values.
Information
Format: Hardback
Pages: 480 pages
Publisher: Oxford University Press
Publication Date: 15/12/2012
Category: Social classes
ISBN: 9780199663996
Free Home Delivery
on all orders
Pick up orders
from local bookshops