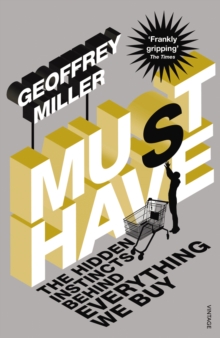 Description
Why do we buy? What is it that governs our choice of car? How does advertising really work? And what can the story of Aladdin teach us about today's world?
In this brilliantly original, provocative and witty book, Geoffrey Miller - acclaimed author of The Mating Mind - takes us on a journey through the surreal wonderlands of marketing, advertising, and media to explore the hidden instincts behind our choices.
Combining this with the latest developments in evolutionary psychology, genetics and consumer research, he explains why we buy what we buy and how we can escape the excesses of twenty-first century consumerism.
Information
Format: Paperback
Pages: 384 pages
Publisher: Vintage Publishing
Publication Date: 05/08/2010
Category: Advertising & society
ISBN: 9780099437925
Free Home Delivery
on all orders
Pick up orders
from local bookshops
Reviews
Showing 1 - 1 of 1 reviews.
Review by Parthurbook
27/08/2015
MUST HEAVERead carefully: this work's own review is in its own text, written by Narcissus himself. p8 '...including most social Darminists, Austrian School economists (Ludwig von Mises, Fredrich Hayek, Murray Rothbard), Chicago School economists (George Stigler, Milton Friedman, Gary Becker), Darwin libertarians, globalization advocates, management gurus and marketers.' p9 '... diverse visionaries throght history: Buddha, Laozi, Epicurus, Thoreau, Engels, Gandhi, Margaret Mead and the Unabomber.' p16 '...a traditional that includes such names as John Locke, Mary Wollstonecraft, Daniel Defore, William Wilberforce, Hendy David Thoreau, Karl Marx, Max Weber, Margaret Sanger, Thorstein Veblen, John Kenneth Galbraith, Alfred Kinsey, Germaine Freer and Peter Singer.' p17 'The things I find most exciting about consumerism capitalism include: almonst croissants, Tori Amos concerts, skiing at Telluride, houses designed by Bart Prince, the BWM 550i, Provigil, iPods full of Outkast and Radiohead songs, and the Microsoft Ergonomic keyboard on which I'm typing.' p32 'Just for the record, I'm a secular humanist, and antiwar internationalist. an animal-rights environmentalist, a pro-gay feminist...I enjoy anticonsumerism books by Thomas Frank and Juliet Schor, but I also subscribe to the Economist and Wired. I enjoy lefty-radical-feminist music by Ani DiFranco and Tori Amos, but I have immense respect for the business world, and gratitude for the workers, managers, and investors who provide our necessities, luxuries and entertainments.'' p35 'I became fascinated by inclusive portrayals of the consumerism lifestyle in movies such as The Matrix, Existenz, Amercian Beauty and Idiocracy and in novels by Chuch Palahniuk, Douglas Coupland, Nicholson Baker and J.G. Ballard... (and) reveal somethng new about consumerism: Architectural Digest, AutoWeek, the Baffler, the Chronicle of Higher Education, Consumer Reports, the Economist. Gourmet, Harper's, Maxim, Men's Fitness, Money, PC Games, Premier, Rolling Stone, Stuff, Wired, Worth, the Utne Retailer, and Vanity Fair.'It's then on p84-85 that the author nails the core of his thesis, along with much of the academic world angling for a blockbuster:"Consumerism has become our most potent ideology because it contemptuously dismisses our natural human modes of trait display, and it keeps us too busy - working, shopping and product displaying - to remember what we can signal without all the products."Consumerism actually promotes two big lies. One is that above average products can compensate for below-average traits... A second big lie...consumerism assumes that better products are more effect signals."Plenty of above average names; chapter on chapter with reference on reference - all hoping it will compensate and be more effective. Half as long would be twice as good - and call for less time in the flotation tank (p 332).