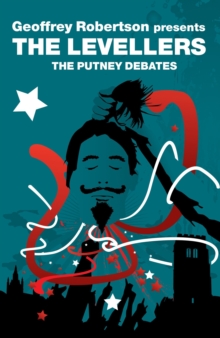 The Levellers : The Putney Debates
Paperback
Description
This volume in the new "Revolutions" series shows just how the Levellers' were the first Western radical democrats.
Evolving from Oliver Cromwell's New Model army in Parliament's struggle against King Charles I, the Levellers pushed for the removal of corruption in parliament, universal voting rights and religious toleration through protests and pamphlets.
This came to a head with the famous debates between the Levellers and Cromwell at St Mary's church in Putney, London - and was followed by violent suppression.
Renowned human-rights lawyer and author Geoffrey Robertson makes a passionate argument for the relevance of the Levellers' stand today, showing how they were the first Western radical democrats.
Information
Format: Paperback
Pages: 160 pages
Publisher: Verso Books
Publication Date: 16/10/2007
Category: British & Irish history
ISBN: 9781844671755
Free Home Delivery
on all orders
Pick up orders
from local bookshops
Reviews
Showing 1 - 1 of 1 reviews.
Review by the.ken.petersen
16/06/2015
I am embarrassed that it has taken until my geriatric age to learn about the Levellers: why hasn't this been taught to every schoolboy (or girl)? The Levellers were a pressure group putting their weight to pushing Oliver Cromwell further and further into modern democracy. Their leader was a chap called John Lilburne, and he is mindbogglingly amazing. Reading his pamphlets is like coming slap bang up to date. He argues for universal male suffrage - about the only thing that he gets wrong, from a modern perspective, is that he does not rate women as intellectual equals. Although this is a grave mistake to modern eyes, I think that one can forgive him, at a time when the prospect of the plebiscite containing non landed gentry was viewed in much the same light as Marxism is today. I cannot help but have sympathy with Lilburne, for whilst he lead a charmed life, it must be so frustrating to be so far in advance of one's time, that there is no possibility of the rest of mankind catching up before one shuffles from this mortal coil.This book comes with an excellent introduction, which sets the scene admirably for peasants, such as myself, and gives a brief outline as to when and why each pamphlet was produced and distributed by the Levellers: after that, we get Lilburne's words ringing through history with a clarity and conviction that, more than once, produced a lump in my throat. Lilburne's words are not just a cause to pat ourselves on the back, for eventually attaining a system along the lines that he suggested, but also a timely reminder of why we must never become complaisant: we must maintain our vigilance and ensure that we never lose the rights which so many people gave so much to obtain.
Also in the Revolutions series | View all