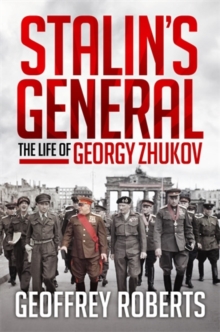 Stalin's General : The Life of Georgy Zhukov
Hardback
Description
Marshal Georgy Zhukov is one of military history's legendary names.
He played a decisive role in the battles of Moscow, Stalingrad and Kursk that brought down the Nazi regime.
He was the first of the Allied generals to enter Berlin and it was he who took the German surrender.He led the huge victory parade in Red Square, riding a white horse, and in doing so, dangerously provoking Stalin's envy.
His post-war career was equally eventful - Zhukov found himself sacked and banished twice, and wrongfully accused of disloyalty.
However, he remains one of the most decorated officers in the history of both Russia and the Soviet Union.
Since his death in 1974, Zhukov has increasingly been seen as the indispensable military leader of the Second World War, surpassing Eisenhower, Patton, Montgomery and MacArthur in his military brilliance and ferocity.
Making use of hundreds of documents from Russian military archives, as well as unpublished versions of Zhukov's memoirs, Geoffrey Roberts fashions a remarkably intimate portrait of a man whose personality was as fascinating as it was contradictory.
Tough, decisive, strong-willed and brutal as a soldier, in his private life he was charming and gentle.
Zhukov's relations with Stalin's other generals were often prickly and fraught with rivalry, but he was the only one among them to stand up to the Soviet dictator.
Piercing the hyperbole of the Zhukov personality cult, Roberts debunks many of the myths that have sprung up around Zhukov's life, to deliver fresh insights into the marshal's relations with Stalin, Khrushchev and Eisenhower.
A highly regarded historian of Soviet Russia, Roberts has fashioned the definitive biography of this seminal 20th-century figure.
Information
Format:Hardback
Pages:400 pages, Illustrations, unspecified
Publisher:Icon Books Ltd
Publication Date:02/08/2012
Category:
ISBN:9781848314429
Other Formats
Paperback / softback from £9.55
EPUB from £5.33