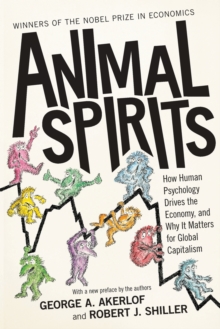 Animal Spirits : How Human Psychology Drives the Economy, and Why It Matters for Global Capitalism
Paperback
Description
The global financial crisis has made it painfully clear that powerful psychological forces are imperiling the wealth of nations today.
From blind faith in ever-rising housing prices to plummeting confidence in capital markets, "animal spirits" are driving financial events worldwide.
In this book, acclaimed economists George Akerlof and Robert Shiller challenge the economic wisdom that got us into this mess, and put forward a bold new vision that will transform economics and restore prosperity.
Akerlof and Shiller reassert the necessity of an active government role in economic policymaking by recovering the idea of animal spirits, a term John Maynard Keynes used to describe the gloom and despondence that led to the Great Depression and the changing psychology that accompanied recovery.
Like Keynes, Akerlof and Shiller know that managing these animal spirits requires the steady hand of government--simply allowing markets to work won't do it. In rebuilding the case for a more robust, behaviorally informed Keynesianism, they detail the most pervasive effects of animal spirits in contemporary economic life--such as confidence, fear, bad faith, corruption, a concern for fairness, and the stories we tell ourselves about our economic fortunes--and show how Reaganomics, Thatcherism, and the rational expectations revolution failed to account for them.
Animal Spirits offers a road map for reversing the financial misfortunes besetting us today.
Read it and learn how leaders can channel animal spirits--the powerful forces of human psychology that are afoot in the world economy today.
In a new preface, they describe why our economic troubles may linger for some time--unless we are prepared to take further, decisive action.
Information
Format: Paperback
Pages: 264 pages, 1 table.
Publisher: Princeton University Press
Publication Date: 02/02/2010
Category: Financial crises & disasters
ISBN: 9780691145921
Other Formats
Hardback from £15.95
EPUB from £13.46
Free Home Delivery
on all orders
Pick up orders
from local bookshops
Reviews
Showing 1 - 2 of 2 reviews.
Review by The_Hibernator
16/06/2015
Animal Spirits is a macroeconomics book for the "popular reader." Although I am popular, and a reader, I didn't fully understand it. However, I got some good information out of it anyway—info that I'm sure will build a knowledge base on something I know little about. As I understand it, the premise is that the US/world economy is driven by "animal spirits," a force which leads people not to think rationally about money, but emotionally. Thus, sometimes the general populace will feel happy and safe about the economy and spend a lot, thus boosting the economy. And sometimes they will feel scared and unsafe, so they don't invest or spend, promoting a recession. If you're looking for a book that explains behavioral economics to people who don't understand, this is not the book for you. Since I didn't understand it, I can't say whether it's any good for people who DO understand what the writers are talking about.
Review by vegetarian
16/06/2015
Emotional and intangible dynamics--confidence in institutions, illusions about the nature of money, sense of being treated unfairly--affect how persons decide about borrowing, spending, saving, and investing