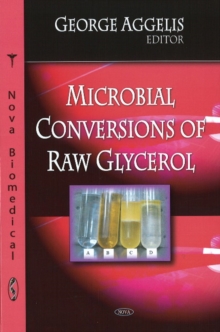 Microbial Conversions of Raw Glycerol
Hardback
Description
Glycerol is a simple carbon source than can be easy assimilated by numerous eukaryotic and prokaryotic microorganisms.
However, this compound had been neglected as substrate for microbial fermentations for many years due mainly to its high cost.
Nevertheless, recent developments in the fuel market, led to the production in large scale of biodiesel derived from vegetable oil, reversed this situation.
Currently glycerol is available in large quantities in the biodiesel production units.
This industry produces enormous quantities of glycerol as a by-product, during transesterification process of the oil with methanol or ethanol.
Therefore, glycerol turns into an attractive feedstock.
Biotechnology provides a broad range of methods for the valorisation of raw glycerol.
Important commodities and high-added value products of industrial interest, such as organic acids, bioplastics, polyunsaturated fatty acids, carotenoids etc could be produced from raw glycerol.
Glycerol can also be recycled after its conversion into microbial triacylglycerols and then to biodiesel.
In this book, the biochemical pathways of glycerol metabolism in prokaryotic and eukaryotic cells cultivated under various conditions are discussed.
The various methods, proposed so far in the international literature for the valorisation of glycerol by biotechnological means, are shown and discussed by using scientific and technological criteria.
Evaluation of the economic viability of the 1,3-propanediol production processes is also presented.
All chapters (research articles and reviews) were reviewed by experts.
Although the examples presented are, doubtless, the more important, there are also a lot of other applications based on raw glycerol.
Information
Format: Hardback
Pages: 200 pages, tables & charts
Publisher: Nova Science Publishers Inc
Publication Date: 28/05/2009
Category: Industrial chemistry
ISBN: 9781606923924
Free Home Delivery
on all orders
Pick up orders
from local bookshops