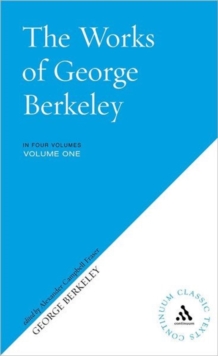 The Works of George Berkeley
Paperback / softback
Description
George Berkeley (1685-1753) is the superstar of Irish Philosophy.
He entered Trinity College, Dublin, in 1700 and became a fellow in 1707.
In 1724 he resigned his Fellowship to become Dean of Derry, and in 1734 he was made Bishop of Cloyne.
He settled in Oxford in 1752 and died the following year.
The work of George Berkeley is marked by its diversity and range.
His writings take in such topics as mathematics, psychology, politics, health, economics, deism and education, as well as that with which he is most associated - philosophy.
Whatever topic he dealt with, his grasp of the subject matter was always impressive and his criticisms of his contemporaries often acute.
Among the most noteable of the British Empiricists, he took his starting point from Locke's new 'way of ideas', but he rejected abstract ideas and the possibility of real existence outside perception.
It is for this doctrine that he is most known - that there is no such thing as matter, and that things are collections of ideas which can exist only in our minds and only for so long as they are perceived.
This philosophy, summed up in his phrase 'to be is to be perceived', he termed 'immaterialism'.
A.C. Fraser's collection includes a series of what were previously unpublished notes by Berkeley on all the main topics of his philosophy.
This, the 1901 edition, was the first complete edition of his works.
Other Formats
Paperback / softback from £15.95
Hardback from £21.95
Paperback from £15.95
Free Home Delivery
on all orders
Pick up orders
from local bookshops
Also in the Continuum Classic Texts Series series