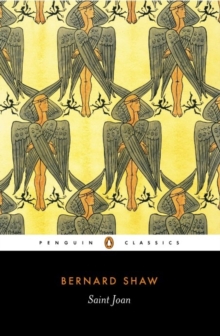 Description
One of Shaw's most unusual and enduringly popular plays.
With SAINT JOAN (1923) Shaw reached the height of his fame and Joan is one of his finest creations; forceful, vital, and rebelling against the values that surround her.
The play distils Shaw's views on the subjects of politics, religion and creative evolution.
Information
Format: Paperback
Pages: 192 pages
Publisher: Penguin Books Ltd
Publication Date: 25/01/2001
Category: Plays, playscripts
ISBN: 9780140437911
Other Formats
Paperback from £9.09
EPUB from £3.99
Free Home Delivery
on all orders
Pick up orders
from local bookshops
Reviews
Showing 1 - 5 of 5 reviews.
Review by pickwick817
16/06/2015
I did not know much about Joan of Arc before I read this. The book really made her real for me. Of course Shaw did not "know" Joan, but he portrays her in such a real and believable way that I was continuously comparing the character to people I have met in my life. I realized that whether or not Shaw was close to the mark or not, Joan had to be an exceptional person. One who I would have liked to have met.
Review by Smiley
16/06/2015
The play 's the thing. Saint Joan is an excellent example of Shaw's work and, I think, that excellence coupled with the time of Joan's becoming a saint gave Shaw the Swedish Merit Badge. Shaw's preface is too clever by half and the self important lecture can be skipped with no real harm to understanding the play. The play itself is notable for a lack of villians. That makes it extraordinary and much of the dialouge is skilled and thoughtful.
Review by amelish
16/06/2015
I enjoyed the lengthy preface, which should by all rights be its own work. Shaw's arguments about "toleration" and the relationship between genius society were especially thought-provoking. Why should we take exception to what seemingly contradicts or overturns our preconceptions, if not because we simply don't understand? Feels like I've heard this argument so many times, but never phrased like Shaw puts it.
Review by jwhenderson
16/06/2015
"The most inevitable dramatic conception, then, of the nineteenth century is that of a perfectly naive hero upsetting religion, law and order in all directions, and establishing in their palce the unfettered action of Humanity . . ." (GBS writing in The Perfect Wagnerite.)In Saint Joan Shaw attempted, and perhaps achieved, a masterpiece based on this conception. The play is a perfect example of the hero as victim transformed into savior. In the first scene the Robert de Baudricourt ridicules Joan, but his servant feels inspired by her words. Eventually de Baudricourt begins to feel the same sense of inspiration, and gives his consent to Joan. The servant enters at the end of the scene to exclaim that the hens, who had been unable to lay eggs, have begun to lay eggs again. De Baudricourt interprets this as a sign from God of Joan's divine inspiration. It is with this simple beginning that the spirited spirituality of the seemingly innocent young Joan begins to take over the play to the point where she is leading the French troops against the British. Her voice exhibits a lively purity that is augmented by an unlimited imagination. Both her voice and her visions are inspirational, but cannot protect her from ultimate betrayal. The result of that betrayal leads to the end that we are all familiar with.Shaw's play features Joan as an outsider who seems lonely only when she is among those who voiced the common opinions of the day. Her multi-faceted personality is hidden behind her single-minded pursuit of a vision of god's design for her life. Saint Joan is a tragedy without villains. The tragedy exists in a view of human nature where the incredulity of intolerance of both religious and secular forces battle each other. It is made even more interesting by Shaw's epilogue that brings the play into the current time and provides an opportunity for Shaw to discuss the play with the audience. Whether this play is truly great or almost great it is definitely Shaw at his dramatic best.
Review by AliceAnna
16/06/2015
Although GBS puts clever words in St. Joan's mouth, the overall effect of the play is boring. It just didn't quite work for me.