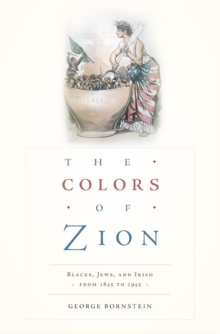 The Colors of Zion : Blacks, Jews, and Irish from 1845 to 1945
Hardback
Description
A major reevaluation of relationships among Blacks, Jews, and Irish in the years between the Irish Famine and the end of World War II, The Colors of Zion argues that the cooperative efforts and sympathies among these three groups, each persecuted and subjugated in its own way, was much greater than often acknowledged today.
For the Black, Jewish, and Irish writers, poets, musicians, and politicians at the center of this transatlantic study, a sense of shared wrongs inspired repeated outpourings of sympathy.
If what they have to say now surprises us, it is because our current constructions of interracial and ethnic relations have overemphasized conflict and division.
As George Bornstein says in his Introduction, he chooses "to let the principals speak for themselves."While acknowledging past conflicts and tensions, Bornstein insists on recovering the "lost connections" through which these groups frequently defined their plights as well as their aspirations.
In doing so, he examines a wide range of materials, including immigration laws, lynching, hostile race theorists, Nazis and Klansmen, discriminatory university practices, and Jewish publishing houses alongside popular plays like The Melting Pot and Abie's Irish Rose, canonical novels like Ulysses and Daniel Deronda, music from slave spirituals to jazz, poetry, and early films such as The Jazz Singer.
The models of brotherhood that extended beyond ethnocentrism a century ago, the author argues, might do so once again today, if only we bear them in mind.
He also urges us to move beyond arbitrary and invidious categories of race and ethnicity.
Information
Format:Hardback
Pages:272 pages, 20 halftones
Publisher:Harvard University Press
Publication Date:01/02/2011
Category:
ISBN:9780674057012
Also by George Bornstein