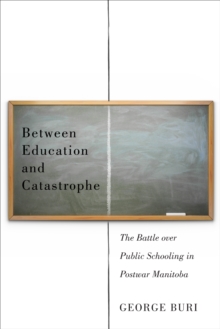 Between Education and Catastrophe : The Battle Over Public Schooling in Postwar Manitoba
Hardback
Description
After the Second World War, progressives and traditionalists waged a quieter battle over schools.
In Between Education and Catastrophe, George Buri connects the educational debates of the 1950s to the broader Canadian postwar political conversation about the social welfare state and Keynesian versus laissez-faire models of liberalism. Working skilfully with primary sources, contemporary publications, and a rich array of secondary sources, Buri examines debates over curricula, the purpose of high school, teacher training, rural schools, and standardized testing in Manitoba.
The progressives who advocated for a "new liberalism" - characterized by government intervention and the social welfare state - sought to create a system of public schooling that would both equip students to succeed and enlarge their political vision by encouraging compromise and democratic decision making.
They promoted more practical subjects, child-centred classrooms, and the use of psychological expertise to promote "life adjustment." Meanwhile, self-styled traditionalists such as Hilda Neatby thought progressive education undermined the individual competition and achievement at the root of a laissez-faire economy, calling for a return to the basics, an elimination of "frill" subjects, and a more academic focus for the public education system. A frank consideration of conflict, power, and influence within school systems, Between Education and Catastrophe brings to light compelling social, cultural, and philosophical themes within the history of education in Manitoba.
Information
Format: Hardback
Pages: 288 pages
Publisher: McGill-Queen's University Press
Publication Date: 22/11/2016
Category: Educational strategies & policy
ISBN: 9780773548275
Free Home Delivery
on all orders
Pick up orders
from local bookshops