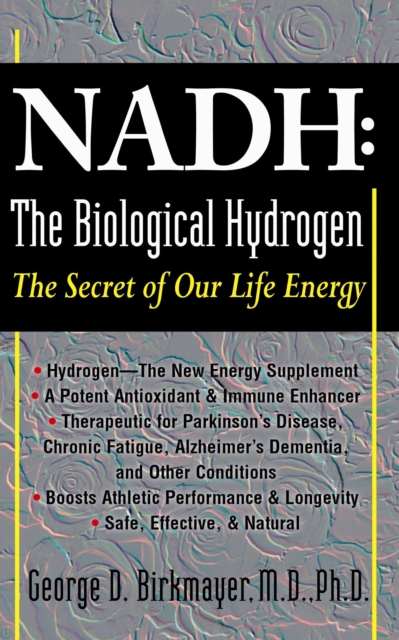 Nadh: the Biological Hydrogen : The Secret of Our Life Energy
Paperback / softback
Description
The most promising natural substance in our body is NADH - nicotinamide adenine dinucleotide hydride - the biological form of hydrogen.
It reacts with the oxygen present in every living cell, producing energy and water.
The more NADH a cell has available, the more energy it can produce, the better it functions and the longer the cell (and the entire organism) lives. ATP (adenosine triphosphate) is the life energy for every cell.
If less NADH is present in the cell, less ATP is synthesised.
Certain diseases - particularly Alzheimer's dementia, Parkinson's disease and muscular dystrophy - are caused by impairment in ATP production.
We can increase the ATP content in a cell by supplementing with NADH.
Therefore, men and women are better protected against health problems the more NADH they have available in their bodies.
NADH, also, has numerous functions in the body: it repairs DNA and revitalises damaged cells, acts as a potent antioxidant, lowers cholesterol and high blood pressure and boosts the immune system.
NADH has proven effective for the following conditions: Parkinson's disease, depression, chronic fatigue syndrome, cancer, Alzheimer's dementia, strokes and diabetes.
NADH, also, has therapeutic uses for menopause, obesity, skin problems, jet lag and sexual dysfunction.
Athletes have also found it useful for boosting athletic performance and it may even help you live a longer and healthier life.
Though NADH is present in foods, we take up only marginal amounts from our daily diet.
Fortunately, a safe and effective NADH supplement is now available.
Information
Format:Paperback / softback
Pages:128 pages
Publisher:Basic Health Publications
Publication Date:16/04/2009
Category:
ISBN:9781591202622
Other Formats
EPUB from £9.87
Hardback from £13.25
Information
Format:Paperback / softback
Pages:128 pages
Publisher:Basic Health Publications
Publication Date:16/04/2009
Category:
ISBN:9781591202622