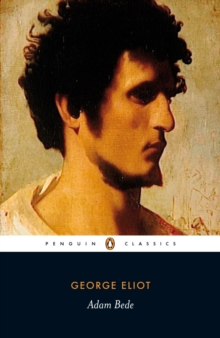 Description
Carpenter Adam Bede is in love with the beautiful Hetty Sorrel, but unknown to him, he has a rival, in the local squire's son Arthur Donnithorne.
Hetty is soon attracted by Arthur's seductive charm and they begin to meet in secret.
The relationship is to have tragic consequences that reach far beyond the couple themselves, touching not just Adam Bede, but many others, not least, pious Methodist Preacher Dinah Morris.
A tale of seduction, betrayal, love and deception, the plot of Adam Bede has the quality of an English folk song.
Within the setting of Hayslope, a small, rural community, Eliot brilliantly creates a sense of earthy reality, making the landscape itself as vital a presence in the novel as that of her characters themselves.
Information
Format: Paperback
Pages: 704 pages
Publisher: Penguin Books Ltd
Publication Date: 24/04/2008
Category: Classic fiction (pre c 1945)
ISBN: 9780140436648
Other Formats
Paperback from £2.50
Hardback from £9.69
PDF from £1.94
EPUB from £1.94
Free Home Delivery
on all orders
Pick up orders
from local bookshops
Reviews
Showing 1 - 4 of 4 reviews.
Review by charlie68
16/06/2015
One of my favourite books of all time.
Review by SFM13
16/06/2015
Adam was an upright character and his story was full of tragedy, although ended in triumph. "Love Conquers All" Dinah the godly Methodist (woman) preacher seemed an unlikely match at first, although one would assume they would end up together in the end. Because Eliot focused on her so strongly at the beginning of the book, I knew she would be a savior in some way. As Hettie took center stage, I began to think maybe the book should have been titled "The Runaway Bride." The trial of Hettie completely shocked me. I thought it was clever how Eliot kept the bastard child a secret from the reader, and I was floored when Hettie's secret was revealed. Her execution was heartbreaking, in spite of her crime. Dinah saved Hettie's soul with the prison visit and the comfort she brought, allowing Hettie to face the truth, giving her courage to ask her Lord for forgiveness. Although if Adam hadn't of confronted Arthur about the secret relationship he had with Hettie in the first place, her life might have been spared. She might have lived with her shame as a unwed mother, and maybe Arthur would have done the right thing. I thought the ending was bittersweet as Adam realized because of his love and sorrow with Hettie, he felt even stronger about his love for Dinah. Only Dinah with her holiness would have been able to know how badly Adam needed a new life, to forget the pain of his past. I'm glad she found her feelings for Adam were strong enough to forsake the life of a 'nun.' Adam and Dinah's love is deep to carry them through the pain of the past to a promising future.
Review by strandbooks
16/06/2015
I don't think George Eliot will ever disappoint me. This was her first novel so it isn't Middlemarch or Silas Marner, but still wonderful nonetheless. The dialect takes a little getting used to and some of it is impossible to understand, but that is her point since the characters talk about the accents of different villagers they have trouble conversing with. I wish I hadn't read the librarything tags because I don't think I would have foreseen Hatty's actions. Eliot must have pushed the boundaries with her descriptions of Hatty's and Arthur's affair. Although, I connected with many characters, there were way too many villagers that would pop in and out. Unlike her other novels they weren't developed enough for me to remember each character. And by the last 30 pages there really isn't any reason to introduce new villagers just to show english life that was already established throughout the novel.
Review by Davidgnp
16/06/2015
Having been a George Eliot fan for many years ('Middlemarch' is my favourite novel of all time) I have been far too long getting round to reading 'Adam Bede'. I'm not sure whether this is a neglected classic or simply neglected by me, though I have noticed there seem to be few TV or film adaptations, perhaps an indication of the book's relative obscurity.It certainly deserves to be better known and more often read. Though not without faults (it was, after all, Ms Eliot's first novel) it is for the most part rich in its descriptions, absorbing in its plot, and generally strong in its characterisation. It is a slight pity that the 'saints' (Adam Bede and Dinah Morris) are not so imaginatively drawn as the 'sinners' (Arthur Donnithorne and especially Hetty Sorrel) and therefore interest us less, but the same could be said of many undisputed classics - Tess of the D'Urbevilles, for example, featuring the insipid Angel Clare.In fact there are a number of strong parallels between this novel and 'Tess' which make me wonder if Hardy used George Eliot's work as a model for his own. Hetty, like Tess, is a pretty girl of the country labouring classes, seduced and left pregnant by a member of the local gentry. Both babies die in infancy. Both women are arrested, tried and committed to hang, though in Hetty's case there is a rather contrived 'deus ex machina' reprieve brought by her repentant seducer. Both novels are set in rural England and both present a large supporting cast of colourful countryfolk who provide vernacular comic relief. Both are moralistic works of their time, though Hardy's characteristic pessimism about the human lot runs counter to the early George Eliot's optimistic, overtly Christian outlook.I am not claiming for 'Adam Bede' superior provenance over 'Tess of the D'Urbevilles', much less as high a place in the unofficial league table of English literature, but I would hope readers will be stimulated by this review among others favourable to the novel and not wait as long as I did to read it.