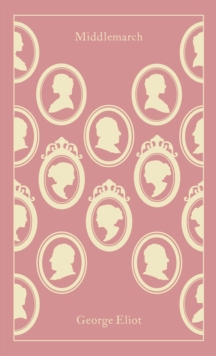 Description
Part of Penguin's beautiful hardback Clothbound Classics series, designed by the award-winning Coralie Bickford-Smith, these delectable and collectible editions are bound in high-quality colourful, tactile cloth with foil stamped into the design.
George Eliot's most ambitious novel is a masterly evocation of diverse lives and changing fortunes in a provincial community.
Peopling its landscape are Dorothea Brooke, a young idealist whose search for intellectual fulfillment leads her into a disastrous marriage to the pedantic scholar Casaubon; the charming but tactless Dr Lydgate, whose marriage to the spendthrift beauty Rosamund and pioneering medical methods threaten to undermine his career; and the religious hypocrite Bulstrode, hiding scandalous crimes from his past.
As their stories interweave, George Eliot creates a richly nuanced and moving drama, hailed by Virginia Woolf as 'one of the few English novels written for adult people'.
Information
Format: Hardback
Pages: 880 pages
Publisher: Penguin Books Ltd
Publication Date: 15/04/2011
Category: Classic fiction (pre c 1945)
ISBN: 9780141196893
Other Formats
Paperback from £2.50
Hardback from £10.19
Mixed media product from £10.14
CD-Audio from £59.29
EPUB from £0.99
eAudiobook MP3 from £5.84
Free Home Delivery
on all orders
Pick up orders
from local bookshops
Reviews
Showing 1 - 2 of 2 reviews.
Review by bookworm12
16/06/2015
The small, fictional town of Middlemarch is a tight-knit community filled with people who are kind, pious, romantic or devious. In other words, it's just like any other small town. Everyone has their own secrets and money problems and everyone knows everyone else's business. The book looks closely at marriage, especially between two people who are not well-suited. Now for the meat of the story, spoilers and all...The main focus of the book is on three separate couples in Middlemarch, but unlike many books, the majority of the story happens after they're married instead of during the courtship. First, there's Dorothea, a young idealistic woman and Edward Casaubon, the scholarly older man she marries. She believes he will do great things and wants to be his helpmate in that process. Unfortunately, he's not the great man she hoped he would be and she quickly finds herself in a lonely marriage. Then she meets his cousin, Will Ladislaw, and feels an instant connection.Then there's the town's doctor, Tertius Lydgate, who's bursting at the seams with new ideas for the hospital and experiments to improve the healthcare offered. He falls for the sweet face of Rosamond Vincy and before he knows it, he's married and she's spending money faster than he can make it. Rosamond may be beautiful, but she's also selfish and conniving, always looking for the next angle that will benefit her. The final couple, Mary Garth and Fred Vincy, tends to be everyone's favorite. Fred is immature and constantly gets himself into financial troubles. Mary loves him, but refuses to marry him until he gets his life together and finds an occupation that he loves. I loved that Mary wasn't willing to settle and her decision helped build a happier life for both of them. The three very different couples show a wide view of marriage. They offer both cautionary tales and sweet love stories. They remind us that you don't always fall in love with the person you should and that sometimes people aren't who they seem to be on the surface. I love classics, but to be honest it usually takes me a little bit it get into them. Once I adjust to the language and get to know the characters, then I'm good to go. This one was completely different. From the first chapter I felt like knew Dorothea Brooks. I didn't agree with all of her choices or connect to her on every level, but I felt like I "got" her. Her noble aspirations and idealistic nature act as both main strength and weakness. I was rooting for her from the beginning and the final scene between her and Will is one of my absolute favorites. Sometimes, I felt so involved in Dorthea's story that it was hard to switch gears and hear about the other people in Middlemarch, like Bulstrode of Dorothea's sister Celia and her husband, Sir James. Parts of the story are slow. It's hard to avoid that when you have 800 pages of provincial life. But I really loved the intricacies of the characters' lives. Nothing is laid our in black or white. Each character does both good things and bad things, sometimes for the right reasons and sometimes not. Everyone has flaws and makes mistakes. Even our two idealistic heroes (Dorothea and Lydgate) make horrible choices when they pick their spouses. Those flaws make the characters feel very real and relatable, which is what made the book work for me. So, dig in and be willing to stick with the story, even if it gets slow, and you'll be rewarded. The story is worth it, but don't expect quick, constant drama.
Review by AlCracka
16/06/2015
Middlemarch is a towering achievement. It's tough to find words strong enough to describe it; I mean, I just finished Madame Bovary and called it perfect, so where do I go from there? Middlemarch is almost three times as long and it's still perfect; that's more impressive. But Anna Karenina is pretty close to perfect too, so here's the best I can do:<br/><br/>George Eliot is better than Tolstoy.<br/><br/>Tolstoy is a realistic writer: his characters are real, complicated people with real lives. Among other things, that means that they don't always get neat little character arcs; Tolstoy's plots don't always come together in a tidy bow. By comparison, guys like Hugo and Dickens operate in slightly surreal worlds; their characters' stories weave in and out of each other, often by means of coincidences that would be unlikely in real life. That's very satisfying from a plot point of view, but I know it bothers some people who can't get over its unlikeliness.<br/><br/>And here's Eliot, walking a tightrope right over both of those methods. Her characters do intersect: they all come together - eventually - and they have enormously satisfying arcs. But it all happens completely naturally. She sets up each person's personality so carefully, so exquisitely, that everything that happens subsequently feels perfectly inevitable. It's one of the most tightly plotted books I've ever read. Not a thread out of place. It's an astonishing feat. There are times when I put the book down just to say, "I can't <i>believe</i> she's pulling this off." It's like the first time you get a handjob. "Technically, this is something I've experienced hundreds of times before...but holy shit, is it better!"<br/><br/>You can borrow that comparison for your thesis if you want. I don't mind.<br/><br/>And her writing! I put a tiny sampling of some of the many sentences that knocked me out in status updates below. Her mastery of the language is staggering.<br/><br/>So okay, yeah, we should mention that it does take a while to get going. I didn't really figure out what Eliot was up to until about 400 pages in. That's a very long time. I had fragmented reading time during that period, so it's partly my fault, but I'm not the first to mention that Middlemarch isn't quick off the blocks. Normally I would say that prevents a book from being called perfect - but Eliot's so aware of what she's doing, and what she's doing is so brilliant, that I think Middlemarch actually earns the right to be a little boring for a while. The ROI is extraordinarily generous.<br/><br/>A few years ago I had this flash of insight about a new friend I'd been making. We'd been hanging out for a couple of months, and one night she said something dismissive about someone else and all of a sudden, all the pieces I'd gotten to know fell into place and I <i>knew</i> her. "Oh!" I thought. "She's a narcissistic twat."<br/><br/>I'm sure we all know how it feels, that moment when you finally really <i>get</i> someone. And Eliot works like that. Character spoilers, and also a very bad word, ahoy: <spoiler>I went back and forth on Dorothea several times before I finally realized what Eliot was showing me: a naive but good person groping for meaning, and fucking it up several times along the way. And it took me a while to realize that Rosamond's not just vacant: she's my favorite villain since Heathcliff. God, what a cunt.</spoiler><br/><br/>So yes, Eliot requires a great deal of patience and commitment. But it's so worth it. Ten stars, guys. A hundred stars. Millions and millions of stars. This book is a unicorn. It doesn't reveal itself easily, but when it does, it's magic. <br/><br/>-----------------------<br/><br/>Edition notes: this Penguin edition has a serviceable intro, but it's very short on endnotes. For example: each chapter begins with an epigram, but many of them are unattributed. I now know that the unattributed ones were written by Eliot (thanks Carla!), but an endnote to clue me in at the time would have been lovely, yes?
Also in the Penguin Clothbound Classics series | View all