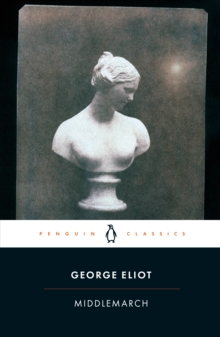 Description
George Eliot's masterpiece, groundbreaking in its psychological insight into powerful clashes of obligation and desire, Middlemarch is edited with notes and an introduction by Rosemary Ashton in Penguin Classics. George Eliot's most ambitious novel is a masterly evocation of diverse lives and changing fortunes in a provincial English community prior to the Reform Bill of 1832.
Peopling its landscape are Dorothea Brooke, a young idealist whose search for intellectual fulfilment leads her into a disastrous marriage to the pedantic scholar Casaubon; the charming but tactless Dr Lydgate, whose marriage to the spendthrift beauty Rosamund and pioneering medical methods threaten to undermine his career; passionate, idealistic and penniless artist Will Ladislaw; and the religious hypocrite Bulstrode, hiding scandalous crimes from his past.
As their stories interweave, George Eliot creates a richly nuanced and moving drama. This edition uses the text of the second edition of 1874.
In her introduction, Rosemary Ashton, biographer of George Eliot, discusses the themes of change in Middlemarch, and examines the novels as an imaginative embodiment of Eliot's humanist beliefs. Mary Ann Evans (1819-80) began her literary career as a translator and later editor of the Westminster Review.
In 1857, she published Scenes of Clerical Life, the first of eight novels she would publish under the name of 'George Eliot', including The Mill on the Floss, Middlemarch, and Daniel Deronda. If you enjoyed Middlemarch, you might like Charles Dickens's Bleak House, also available in Penguin Classics. 'No Victorian novel approaches Middlemarch in its width of reference, its intellectual power, or the imperturbable spaciousness of its narrative' V.
S. Pritchett 'One of the few English novels written for adult people' Virginia Woolf
Information
Format: Paperback
Pages: 880 pages, notes
Publisher: Penguin Books Ltd
Publication Date: 30/01/2003
Category: Classic fiction (pre c 1945)
ISBN: 9780141439549
Other Formats
Paperback from £2.50
Hardback from £10.19
Mixed media product from £10.14
CD-Audio from £59.29
EPUB from £0.99
eAudiobook MP3 from £5.84
PDF from £4.66
Free Home Delivery
on all orders
Pick up orders
from local bookshops
Reviews
Showing 1 - 5 of 19 reviews.
Previous | Next
Review by rayette
16/06/2015
I was assigned this book in college and faked my way through the class. Years later, I picked it up. It took me 2 yrs to read in fits and starts. The story bogs down in places, but ultimately it was totally worth the long struggle. Very rich. I hate to say it, but I'll need to read it again sometime in order to really understand everything Eliot is trying to say here.
Review by BgGirl
16/06/2015
It is with great sadness that I have turned the last page of "Middlemarch". What a beautiful, rich novel that is. I cannot even recall the last time a book drew me so completely in, the last time I so cared for the characters involved. Ms. Eliot's "Middlemarch" is a true masterpiece – everything a book should be. It is large in scope, with perfectly developed characters (both major and minor), written with much compassion and keen observations of the times and place, which they inhabited. It is witty and clever, full of subtle commentaries on provincial life in England, the role of women in society, morality, politics, the effects of industrialization on rural communities, and so much more.In its core, however, Middlemarch is a book about a small town and its inhabitants. As any other town, Middlemarch is populated by all types of characters. Some are good and honorable; others have questionable pasts or motives. Some are shallow and bound by tradition and societal expectations; others are determined to break free and defy those same expectation. Thanks to Eliot's intelligent and compassionate writing, however, we are allowed to feel the weaknesses of the good and the goodness in the wicked. As the author has so much sympathy for all of her characters, it is difficult for the reader not to sympathize as well. The book is rich, multilayered, and thought provoking, yet it is very readable. Eliot possessed tremendous psychological insight into human nature and her characters in turn are so real, I kept thinking – I know a Rosamond, or Mrs. Cadwallader sounds just like my old neighbor. For the past several weeks I felt as though I was living in close proximity with those characters and cared deeply about what happened to them. I certainly look forward to re-reading the book and to getting even more out of it the second time around.Every once in a while, we as readers are rewarded with a reading experience of the highest order and reminded what good literature is all about. Middlemarch was one such experience for me, and as I am not very well read in the classics, it now occupies the number one spot on my list of most loved novels of all time.
Review by lyzadanger
16/06/2015
There is a world in this book, a world that Eliot has wrapped up and commentated for us and handed to us for posterity. As such, a world is too much to master in a single read, and I know my careful yet single experience with this story is not enough.The world of Middlemarch is populated by characters with the complexity of planets (they have their own weather systems of cause, continents of pathos) orbited by archetypical small-town satellites (bloviators, horse traders, shrews, useless gentlefolk). Our fair protagonist, Dorothea Brooke, navigates the treachery of pastoral pre-Victorian England with as much tact and grace as can be possible, pitting her own individuality against the fatiguing winds of her prescribed fate. She defends herself from the inevitable (married, dull, subjugated life) with several sequential fronts: idealistic, self-effacing religiosity; ascetic academic ardor; resigned but noble widow. Of course, none of these withstand because they are false fronts to a personality too deep to be hidden.The other planets of Middlemarch's solar system (Eliot would say "web", but I'll broker my own metaphor here) are also simultaneously idiosyncratic and stereotypical. Rosamond Lydgate (nee Vincy) is so syrupy and materialistic that one spends much of the time wanting to give her a good wallop, and yet, cracks appear: what other power has she beyond nagging her husband? How can she have any control over her life without deceit? Conflicts like these characterize Eliot's presentation of the sweeping social changes in 19th-century Britain.The intrepid explorer of this universe needs patience and a careful eye. Eliot's phrasing is recursive and deep, with clauses tucking into other clauses and sentences many lines long. References are dense and arcane (to the dismay of readers who might like to think of themselves as well-read); a well-noted edition is recommended (the Penguin Classics series is a good bet). Despite the length (almost 850 pages) and wordiness, be warned: Eliot means what she writes. This is not padding. Every sentence has its place, every description has its meaning.If you're paying attention and taking good scientific samples, what you'll bring back from this expedition is an understanding of a world, frozen in time, and the seismic changes it is about to shudder through. You might understand better how women's coming emancipation, a newly-enfranchised populace, and a value system redefined to encompass industry and self-made success posed such a monumental threat to the steady, patriarchal aristocracy that had been the center of this universe for so many centuries.
Review by marysargent
16/06/2015
A great book. Her empathy even toward people like Bulstrode is remarkable. And I appreciate that she didn't tidy things up with Victorian coincidences. Things ended right, although maybe not what you'd want.
Review by Jthierer
16/06/2015
I really liked that even the minor characters in this book were real people, not just cardboard caricatures to move the plot along. I also appreciated the subtle dashes of humor that only become apparent as you adjust to Eliot's style. Overall, amazing book that really engaged me mentally and emotionally. Everyone should at least give this one a chance.