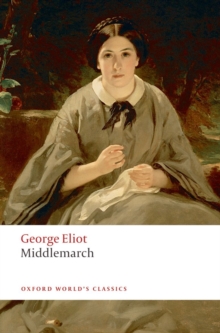 Description
Writing at the very moment when the foundations of Western thought were being challenged and undermined, George Eliot fashions in Middlemarch (1871-2) the quintessential Victorian novel, a concept of life and society free from the dogma of the past yet able to confront the scepticism that was taking over the age.
In a panoramic sweep of English life during thr years leading up to the First Reform Bill of 1832, Eliot explores nearly every subject of concern to modern life: art, religion, science, politics, self, society, human relationships.
Among her characters are some of the most remarkable portraits in English literature: Dorothea Brooke, the heroine, idealistic but naive; Rosamond Vincy, beautiful and egoistic: Edward Casaubon, the dry-as-dust scholar: Tertius Lydgate, the brilliant but morally-flawed physician: the passionate artist Will Ladislaw: and Fred Vincey and Mary Garth, childhood sweethearts whose charming courtship is one of the many humorous elements in the novel's rich comic vein.
Felicia Bonaparte has provided a new Introduction for this updated edition, the text of which is taken from David Carroll's Clarendon Middlemarch (1986), the first critical edition. ABOUT THE SERIES: For over 100 years Oxford World's Classics has made available the widest range of literature from around the globe.
Each affordable volume reflects Oxford's commitment to scholarship, providing the most accurate text plus a wealth of other valuable features, including expert introductions by leading authorities, helpful notes to clarify the text, up-to-date bibliographies for further study, and much more.
Information
Format: Paperback
Pages: 864 pages
Publisher: Oxford University Press
Publication Date: 10/07/2008
Category: Classic fiction (pre c 1945)
ISBN: 9780199536757
Other Formats
Paperback from £2.50
Hardback from £10.19
Mixed media product from £10.14
CD-Audio from £59.29
EPUB from £0.99
eAudiobook MP3 from £5.84
PDF from £4.66
Free Home Delivery
on all orders
Pick up orders
from local bookshops
Reviews
Showing 1 - 5 of 10 reviews.
Previous | Next
Review by booksweremyfirstlove
16/06/2015
One of the greatest novels ever written; comparable to Tolstoi or other Russian masters. Great character portrayal. Brings to life the life in rural Victorian England in the 19th century.
Review by andreablythe
16/06/2015
Middlemarch details the ins and outs of various people's lives in the area of Middlemarch. One of the main plot lines follows Dorthea, a so woman passionate to do some sort of good in the world that she locks herself into a loveless marriage. There is also Dr. Lydgate who marries the wrong woman (very wrong) and Fred Vincy whose lazy ways may cost him the favor of his childhood love. This book is very long and the descriptions of the various characters' daily lives can make it a slow read. Especially in the beginning third, it seemed like there was too much going on and in someways I felt like some of the details could have been left out. Do we really know the inner workings of the lifes of every minor character? No, probably not. That being said, I thoroughly enjoyed this book. The writing style was quick witted, and had turnings of phrase worth savoring. The characters, down to the very last minor character (oh, so many of them), had unique personalities and were fully formed. I could easily believe that this town existed and that every single one of these people walked around in it. I especially began to enjoy the book in the last third, where all the wanderings of what came before began to crystallize into where everyone was going to end up. Not a light read, and not for everyone, but worth the effort for those interested in Victorian Era novels.
Review by Medellia
16/06/2015
(a very few spoilers) How does one really go about writing a review for a novel like Middlemarch? There's just so much here, a great cast of characters, good story, beautiful--if difficult--prose, preternaturally acute observations about human and individual nature, philosophy, politics, religion, art, science, family relations, marriage… and the list goes on. I enjoyed this novel immensely and place it among my top 3 favorite novels. I finished it over a week ago but haven't stopped flipping back through it yet.The action of the novel takes places from 1829 to 1832, about 40 years before the writing of the novel. This was a time of great change in England that must have been very disorienting—the Catholic Emancipation in 1829, the death of George IV in 1830, the spread of the railways, the outbreak of cholera in 1832, and the domestic unrest leading up to the First Reform Act of 1832 (the novel closes in the spring of 1832—the Act was passed in the summer).Against this backdrop of uneasy change we find a number of characters who yearn to do great things, though they don't all know exactly what, and to establish a sense of order and meaning in their lives and the world around them. Mr. Casaubon works on his "Key to All Mythologies," a scholarly volume which will elucidate the universal principles that lie behind all religions; Tertius Lydgate wants to find "the one primitive tissue" that makes up all living things; Dorothea wants to find a way to connect her life in the present with the great scholars of the past, and to connect here and now with people who need help. In reading of their quests, I was reminded of a dear professor who used to speak of a search for unity (in all its various guises—we were speaking of music theory) in connection with a search for God and ultimate meaning. This is the feeling that I get when I read about the characters' struggles, and when Dorothea tells Will, "I have always been finding out my religion since I was a little girl."None, I daresay, of the characters reach the true heights of the good that they want to do in the world. Very few of us do. But in Middlemarch, this doesn't come off as tragedy. George Eliot, describing herself, said that she was neither an optimist, nor a pessimist, but a "meliorist." She believed that humans were making progress toward a better, more equal society, and that the world could be improved through human action. Though our (and their) individual lives may not seem to add up to much, Eliot writes of Dorothea, "…The effect of her being on those around her was incalculably diffusive: for the growing good of the world is partly dependent on unhistoric acts; and that things are not so ill with you and me as they might have been, is half owing to the number who lived faithfully a hidden life, and rest in unvisited tombs." I find this to be a great consolation.I've tried and so far failed to wrap my head around the structure of the novel. But I can say that the whole thing appears to be a big, criss-crossing web of relationships. Any given character can be tied to most of the other characters in the novel—sometimes practically all of them. The "diffusive" effect that Eliot describes in speaking of Dorothea applies to the other characters as well; a single action often travels along the threads of the web and affects multiple characters. The idea of unity is expressed by making each character and group a part of a greater whole.Eliot clarifies the moral aspect of each individual as a single part of a whole by juxtaposing selfless characters against self-centered characters. The finest characters in the novel are fine not because they are perfect, but because they are clear-eyed about themselves and sympathetic toward others. The characters who suffer most often bring their pain on themselves through their egoism and lack of self-perception. One character is so egoistic that she can't imagine that she is ever in the wrong; another character believes that God Himself sanctions all his actions and breaks into a panic (with drastic moral consequences) when it appears that his moral failings may be revealed to the town. Dorothea and Edward Casaubon's marriage is ruined in great part because of his fear that she is inwardly criticizing him and his jealousy of another man; as well, he has lived by and for himself for so long that once he marries Dorothea, he finds that he simply doesn't have room for her in his life. The tragedy of this marriage is all the more maddening because Mr. Casaubon so needlessly drives a stake between himself and Dorothea—you sense that if he could just get outside of himself, the troubles would be over.Speaking of marriages, I very much enjoyed reading about the different marriages in Middlemarch. The novel doesn't end in weddings, like so much 19th century Brit Lit—the weddings are only the beginning, and then the real work happens. The marriages aren't all bad, either; for one, I found very much to admire in Mr. and Mrs. Garth's marriage. They complement each other well; they accept each other's faults cheerfully, and they never speak ill of each other to their neighbors. The Garths, including their daughter Mary, may well be my favorite characters in the novel. (But it's so hard to choose!)Middlemarch ranks with Les Misérables as the finest moral fiction I've read. When Dorothea speaks of finding out her religion, she says that the belief that comforts her is this: "That by desiring what is perfectly good, even when we don't quite know what it is and cannot do what we would, we are part of the divine power against evil--widening the skirts of light and making the struggle with darkness narrower." Later, she will say, "What do we live for, if it is not to make life less difficult to each other?" The self-examination and struggle for meaning that many of the characters go through is truly inspiring, and there's much to learn from this novel. Eliot writes during one scene (bless the intrusive narrator!), "Some one highly susceptible to the contemplation of a fine act has said, that it produces a sort of regenerating shudder through the frame, and makes one feel ready to begin a new life." Fred Vincy felt it, and so did I. And Eliot's finely-tuned and finely-timed sympathy always shows up just when you are ready to pronounce a final judgment on a character—just as you're about to say, what a bad guy!, her intrusive narrator intervenes and says, but hey, look at what he has going on inside him—don't you sympathize?—and really, are you sure that you're the one to judge him? Don't you do the very same thing sometimes? And you have to say, well, by gum, I do.And to add to all the above (seriously, if you haven't read this novel, just stop reading my review and go read Middlemarch instead!), there is a magic to George Eliot that transcends character and plot. Just one example: each chapter has its own epigram. One chapter is preceded by a lovely bit of verse (written by Eliot) describing the sympathetic resonance of a bell. To determine the pitch of a bell, Eliot explains, one need not strike it directly; one can instead play a flute into the bell, and when it hits the right pitch, the bell will vibrate in unison with it. The chapter then describes how one character ends up falling with another quite instantly. He has up to this point flirted with her but resisted any serious attachment; but at the falling of her tears, his heart is touched, and it "[shakes] flirtation into love." I read this scene with the idea of the sympathetic resonance in mind, and the power, the thrilling awe and beauty of the integrated experience has been burned into my brain forever.Read Middlemarch. Read it now.
Review by Luli81
16/06/2015
A complex novel of the social life in the last century.The story of different characters with different backgrounds collide with the most dramatic outcomes.
Review by CBWolff
16/06/2015
I like Dorothea and Lydate in that they feel compelled to do something interesting, something creative with their lives. Dorothea tried to serve her first husband's research project and to build cottages for those who needed them. Lydgate wanted to change the field of medicine. I only wish they had succeeded. I like Dorothea even more, and Caleb Garth too in that they both give people chances where others wouldn't: Dorothea believes in Lydgate; Caleb, Fred Vincy. And I like Eliot: she combines telling me about what a character is doing with telling me about what a character is thinking and feeling to the degree I like best.
Also in the Oxford World's Classics series | View all