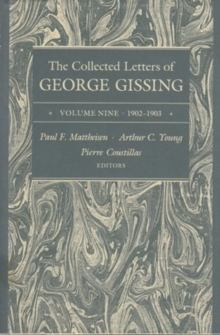 The Collected Letters of George Gissing Volume 9 : 1902-1903
Hardback
Description
This ninth volume concludes the widely-acclaimed edition of The Collected Letters of George Gissing, which not only renders obsolete all other collections and selections of his letters, but also contains a considerable quantity of hitherto unpublished or inaccessible materials.
If Gissing was a rather less assiduous letter-writer in 1902 and 1903, largely owing to the deterioration of his health, he nonetheless remained in touch with a number of major writers of the period such as Wells, Conrad, and Hardy, whose last letter to him, unavailable until now to biographers and editors, are printed here.
During the last eighteen months of his life, which he spent with Gabrielle Fleury in Southern France, first at Ciboure on the Atlantic coast and then farther inland in the small Basque village of Ispoure, Gissing wrote his last novel of modern life, Will Warburton, and at last turned to the historical narrative of sixth-century Romans and Goths, Veranilda, for which he had been collecting material since the mid-nineties.
But he was not to complete it, and five chapters remained unwritten. Even more than in previous volumes, the illustrations here help one to visualize the world Gissing left in December of 1903.
Included in an appendix are a number of letters to and from Gissing which were discovered too late for publication in the previous volumes, where they belonged chronologically.
Several other important features also distinguish this final volume from the others.
A number of letters and telegrams exchanged between Gabrielle Fleury and Gissing's friends importantly reflect the dramatic circumstances under which he died in the Maison Elgue, where H.
G. Wells's presence proved to be more calamitous than useful.
Then, the fifty or so messages of condolence that were preserved, sent by sympathizers known and unknown from half a dozen countries, while emphasizing the loss to the family and to literature itself, throw retrospective light on the high esteem in which Gissing was held in the cultural world.
Finally, Gabrielle Fleury's informal but extraordinary recollections provide a definitive description of Gissing's death and illuminate many dark corners in the four and a half years they spent together from the spring of 1899 until his death, adding much to our knowledge of their daily activities at Ciboure and Ispoure and of Gissing's personality as well as of his opinions on matters literary and unliterary. The usefulness of the whole set will be improved by the cumulative indices and lists of recipients, correspondents, miscellaneous letters, and illustrations. In the view of the editors and the publisher, these nine volumes of Gissing correspondence will enhance considerably the image of Gissing's life, public and private, and accelerate the current revaluation of his achievements as a novelist and short story writer, a Dickens critic and classicist. And they open another window on the vanished but ever more fascinating world of a century ago.
Information
Format: Hardback
Pages: 486 pages
Publisher: Ohio University Press
Publication Date: 20/12/1996
Category: Diaries, letters & journals
ISBN: 9780821411667
Free Home Delivery
on all orders
Pick up orders
from local bookshops
Also in the Collected Letters Gissing series | View all